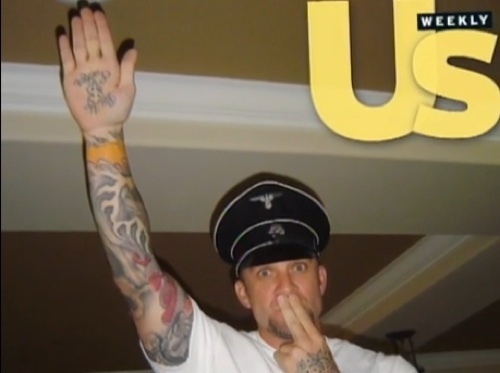 As if the cheating allegations by at least four different women weren't bad enough, Jesse James' reputation has also been under fire as a possible Nazi sympathizer. The first piece of evidence questioning James' beliefs was mistress #1, Michelle McGee (whom I refuse to refer to as "Bombshell," because, well….just look at her!), a white supremist who has "WP" tattooed on her body and participated in a Nazi-inspired photo shoot. The second was a report that James collects Nazi memoriabilia. The third was a recently released photo of James sporting a Nazi cap and doing the Nazi "heil Hitler" salute. Now, James' legal team is addressing these rumors directly, saying that their beleaguered client is a history buff who collects Nazi artifacts but is no anti-semite.
Jesse James' Nazi hat was a gift from a Jewish mentor and does not make him a neo-Nazi, his lawyer said Wednesday.

James is at a treatment facility "to deal with personal issues" in a bid to save his marriage to actress Sandra Bullock, a spokeswoman for James said.

"He realized that this time was crucial to help himself, help his family and help save his marriage," she said.

A photo recently surfaced of James wearing the German Nazi hat as he raised his right arm in a salute. The hat may have been in poor taste, but it was given to James as a gag gift by his Jewish godfather, attorney Joe Yanny said.

Possessing Nazi memorabilia does not make someone a neo-Nazi, he said.

As evidence that James is no anti-Semite, Yanny said James lived for nearly a month in an Israeli kibbutz. His lawyer would not disclose what kind of treatment the famous motorcycle designer is seeking.

"I would request that his rights in regards to privacy and his medical matters be respected," said Yanny.

James has been the target of controversy and publicity since his separation with Bullock soon after she won a best actress Oscar earlier this month.

Yanny refused to talk about the condition of the James-Bullock marriage, which came under question when several women went public with claims they were involved with him.

"I understand people's desire in newsworthy stories, but I would hope that by now this wasn't such a newsworthy story such that his basic rights and privacy aren't continuously invaded in an improper manner," Yanny told CNN.

He said "99 percent" of what has published about James in recent weeks is untrue.
Okay, I can believe that James is a history buff. I can even believe he lived in a Kibbutz. But that photo? I don't know. I'm not Jewish, so maybe I am out of my depth here, but perhaps some of our Jewish posters can lend some commentary here: since when is the Holocaust fair game for "gag gifts?" Is this subject really something that Jewish people joke about at this level – giving someone a Nazi hat and encouraging them to pose in a Hitler-esque pose?
I also find it interesting that the lawyer refers to James' "medical issues." I guess "serial cheater" is now a medical issue? We have Tiger Woods to thank for that one. What would that medical issue be named, exactly – "Can'tKeepitinMyPants-itis?" Yeah, I'm not buying it. Nice try on the damage control, but maybe James should have thought about all of the damage his marriage, career and reputation would sustain before he started trolling the Internet for skanks. And there's no medical condition on earth that can justify sleeping around with no protection. That's just classic douchebag, and there ain't no cure for that! As for the "99 percent of claims are untrue," this echoes James' original apology from two weeks ago – but notice that there's not any clarification beyond that. I think we know what 1% is true, based on his wife's reaction: Jesse James is a cheater.
Header image from US Weekly via Gawker