Let's do the worst news first. Life & Style Magazine is reporting that Bombshell McGee used to be a stripper at Club Fantasy in San Diego, and Jesse James used to come in and pay her for private shows. "Private shows" being the standard euphemism for "gross blow jobs in in the sticky VIP room". Ugh:
Life & Style has learned that Jesse James laid down major dough for the chance to get naughty with Michelle "Bombshell" McGee. An insider at the Club Fantasy in San Diego tells Life & Style exclusively that Jesse visited the strip joint four times last summer, paying $400 an hour to take Bombshell into the dark VIP room alone. "[The club] comped him admission," the insider tells Life & Style. "But he always paid to be with her. One time, she was on her knees giving him [oral sex]. It's not something the club allows, but he is who he is. She bragged about doing it to him."

His appetite was insatiable. Jesse spent additional money for another Club Fantasy stripper during that visit. "As soon as Michelle was done giving him [oral sex], he grabbed another one of the girls," continues the insider. "He was pretty aggressive with her. He was pulling her bathing suit aside. He wanted her to do what Bombshell did, but she wouldn't do it. It looked like she used her hand instead." A representative for Club Fantasy tells Life & Style: "Jesse James was at the club. But we do not condone that sort of behavior."
[From Life & Style]
I don't even want to talk about what a piece of crap Jesse is, okay? It's established. He sucks. The big one. So, with that in mind, Us Weekly and People Magazine's cover stories this week are basically about Sandra slowly coming to the realization that she was married to a motherf-cking douche bomb. Us Weekly's source claims: "She has made up her mind. She is talking to her lawyer and definitely decided to file for divorce from Jesse…She is over him." And Sandra and Jesse have been talking, although "When they do talk, it's very little and very nasty. She won't forgive him for this." People Mag's source agrees: "She's in shock. She's sad – but getting angrier." Although People does make it sound like Sandra is still in the process of making a decision whether or not to divorce him – the source says: "They're in a celebrity marriage where you really have to trust each other because the opportunities to stray are huge. He was a champ around her. He would make her feel like a million bucks." Also: Bullock's rep tells Us Weekly that Sandra is "not pursuing custody of Sunny."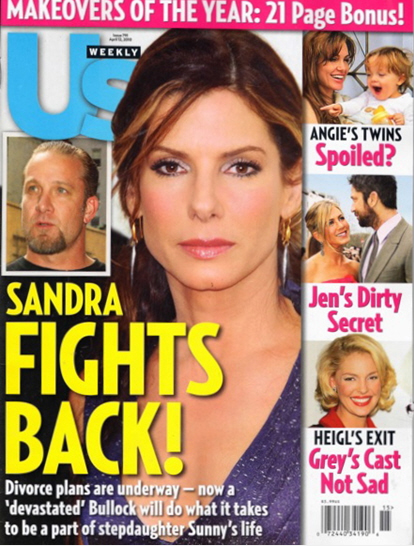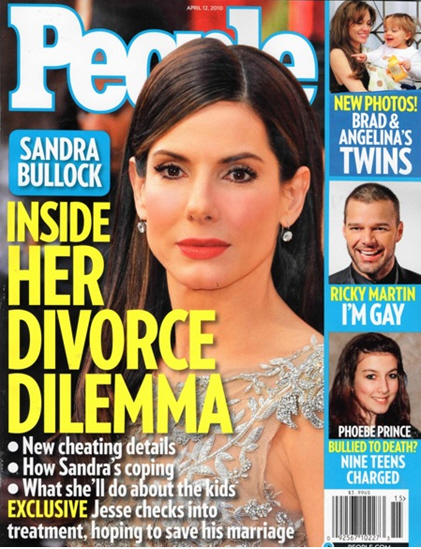 Us Weekly & People covers courtesy of CoverAwards.