Jennifer Hudson appeared on Good Morning America this morning looking amazingly svelte and really, really happy. The Oscar winning singer and new mom announced that she has become the new spokesperson for "Weight Watchers." She said that after the birth of her son, David, 7 months, she wanted to "get healthy" and "make better life choices" for herself and her son. While Hudson didn't reveal the amount of weight she has lost, she did say that she walks daily, eats better and uses the Weight Watchers' iPhone app to keep track of what she eats. Go, Jennifer!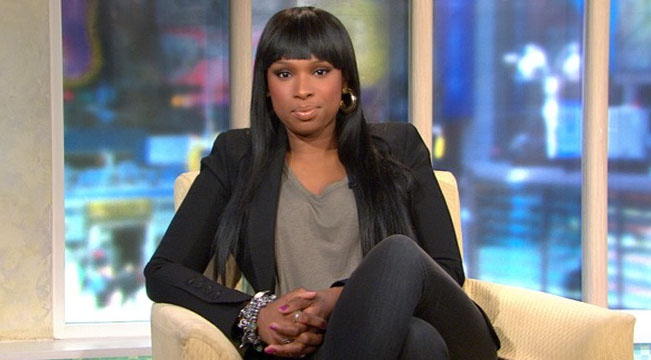 The secret behind Jennifer Hudson's amazing body after baby? Weight Watchers! In fact, the new mom revealed she's the new spokesperson for the company today. "With Weight Watchers I am enjoying the weight loss because I'm doing it the right way—I feel empowered with what I've learned, everything from portion control to what foods will help keep me satisfied," says the 28-year-old singer-actress. "It's a lifestyle change, not a diet." The Oscar-winning actress—who has a 7-month son, David Daniel Otunga Jr., with her fiancé David Otunga, 28—also likes how the diet fits into her busy lifestyle. "I can follow the plan no matter where I am, still enjoy my favorite foods and even use the iPhone app to track my points," she says. Hudson is no stranger to publicly discussing her weight: After being called "the big girl" as a contestant on American Idol, the singer transformed her body for her Oscar winning turn as Effie in Dreamgirls by packing on more than 20 lbs. with a diet of "cakes and cookies and lots of friend food," she told PEOPLE. She later lost the weight for the premiere of the film. Past celebrities who have represented Weight Watcher in the past include Jenny McCarthy, Duchess of York Sarah Feruson and Lynn Redgrave.
It was nice to see Jennifer looking and feeling great after the tough personal ordeal she's been through in recent years. Out of all the weight loss plans out there, Weight Watchers seems like the one with the most success, because rather than making people buy special food, it teaches you how to eat sensibly in the real world using portion control. Most of us can't afford to buy all that special food, and once you stop using the plan and eating regular food, it's easy to put the weight back on.
Jennifer is currently preparing to play Winnie Mandela in a new biopic about the controversial wife of Nelson Mandela.