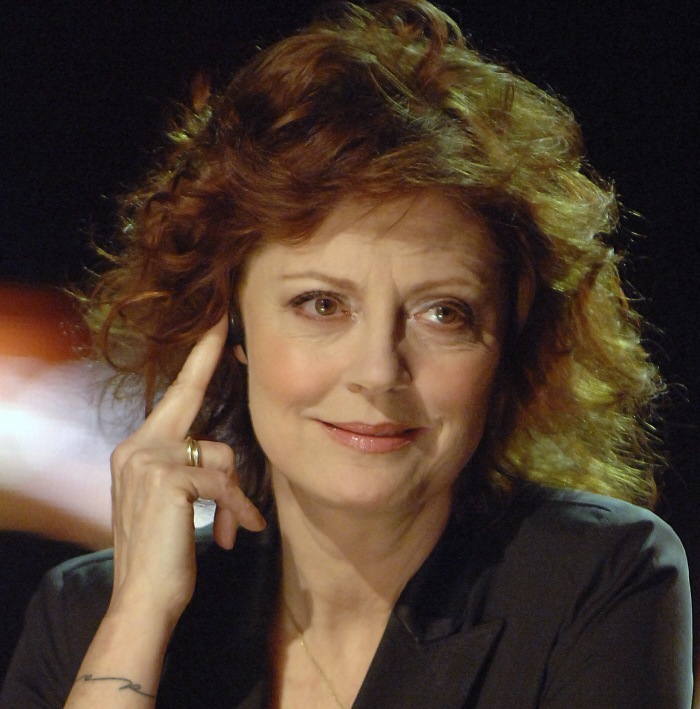 Susan Sarandon kept pretty quiet after her split with long-time partner Tim Robbins became public in December. Even though she was still promoting The Lovely Bones, she really didn't do many interviews and she never really gave any reasons publicly for their split. Neither did Tim, for that matter. However, just days after their split became public, many sites (including ours) ran with the rumor that Susan was already bangin' a 31-year-old dude named Jonathan Bricklin. You see, Susan is an investor in a Ping-Pong club that Bricklin co-owns or operates or something. And they had been seen together several times, usually looking flirty or friendly. The rumors are still floating around, by the way. And Susan and Jonathan are still turning up at the same places at the same times (spooky!).
Anyway, Susan has a new interview in Entertainment Weekly and she's not doing much to dispel those cougar rumors. Which, by the way, she loves it when you call her a cougar. And she also describes her life post-Tim Robbins as "exhilarating and terrifying at the same time." Interesting!
In the new issue of Entertainment Weekly, Susan Sarandon talks about life since splitting with her partner of two decades, Tim Robbins. When asked how things have changed for the 63-year-old Oscar winner since they parted ways, Sarandon said, "I did a movie a long time ago where I had to fly in a glider. You get towed up in the air by a plane, and it's loud and annoying. And at some point you pull the cord and you're suddenly floating, and in your mind it makes absolutely no sense. But it's exhilarating and terrifying at the same time. That's where I am now."

When asked if she's dating anyone now (Sarandon's been linked in the gossip columns to one of the partners in her New York ping pong club, SPiN, 31-year-old Jonathan Bricklin), she shut down the line of questioning with a playful "no comment".

But, she added: "It's a long time to not be dating and then go back into it. I certainly love the idea of being in love, and I love the idea of companionship. Whatever happens next in terms of romance and partners, I don't know. But it's exhilarating and terrifying. I think the point is just keep moving, and to just say yes to life."

The actress also says she doesn't mind being called a cougar one bit. "No, I love that!"
[From Entertainment Weekly]
Yeah, I think she and Bricklin are going at it. She's probably got a few other young dudes on the side too. Because that's just the way Susan rolls. You know what I'm finding bizarre, though? We really haven't heard anything about Tim since the split became public. I'm starting to wonder and worry about him. Do you think there's something else going on with him?
Susan on an Italian talk show on February 27, 2010. Credit: WENN.