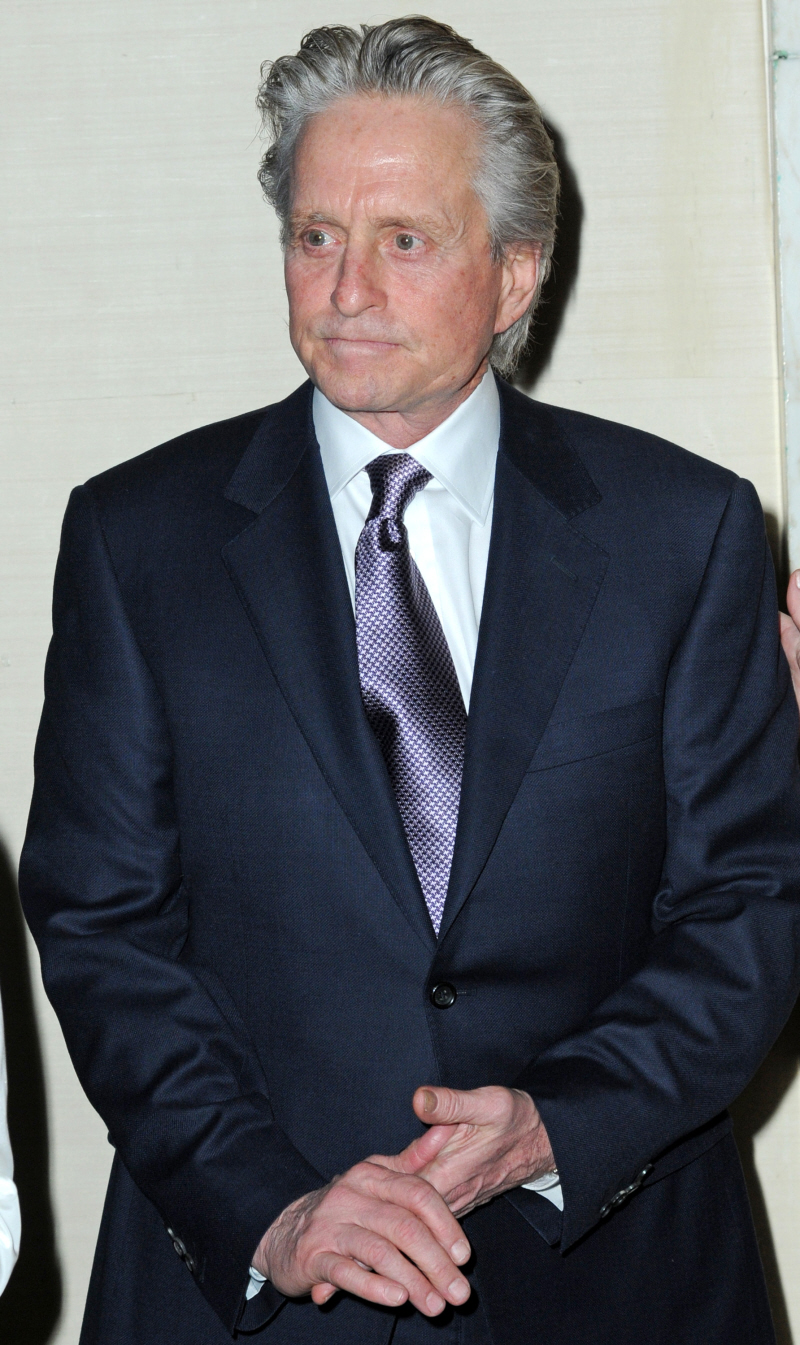 It was just a few months ago that Michael Douglas was telling the AARP Magazine about how much he loves Viagra. Now, I totally know that older gentlemen and ladies love to get it on. I'm not judging. But the image of Michael slipping a little blue pill and then mounting La Zeta-Jones made me nauseous. Maybe Michael knows that, because now he's claiming to Esquire (via PopEater) that he's "probably not leading with my libido quite as strongly". Which, sounds a lot like "I'm trying harder not to come across like a creepy old dude, so is this what you want to hear?" Here's more:
One-time ladies' man Michael Douglas has been tamed by "age and happiness," the actor tells Esquire magazine in a new interview, and admits that middle age and a long-term commitment to wife Catherine Zeta-Jones have soothed his wild urges. "I'm probably more comfortable with myself now, probably not leading with my libido quite as strongly," Douglas says.

"I've probably calmed down," the actor continues. "It's interesting when you have kids [at my age] because you're kind of betwixt and between. Some of your friends, the only kids they've got are grandchildren."

Douglas married Welsh actress Zeta-Jones — who is 25 years his junior, to the day — in 2000. The couple has two children, nine-year-old Dylan Michael and Carys Zeta, who turns seven this month.

Douglas' son from a previous marriage, Cameron, is currently awaiting sentencing after pleading guilty to heroin possession and conspiracy to distribute drugs, reports The Daily Mail. Douglas says, "It's an ongoing problem. But substance abuse has been a big problem in different areas of our family. I lost a brother [Eric] five years ago. So it's terribly sad and a difficult situation. But anybody who has family or friends who have been involved in substance abuse knows what a nightmare situation it is and how much pain it causes."

The actor says that he began to conquer his own issues with alcoholism "around the time I married Catherine."

He explains, "I started making some conscious decisions and prioritizing. As little children entered the equation – with a bride, an actress, 25 years younger, in her prime – the important part became them."
[From PopEater]
Part of my thinks it's cute that Michael refers in passing to Catherine as his "bride". Not his "wife". It's sweet. But, yeah, I'm still getting a creepy vibe from him. And that's coming from someone who used to love him – Romancing the Stone, Fatal Attraction, all of the truly good work he did in the 1980s. Plus, Michael is in one of my favorite movies of all time – Wonder Boys, which I believe came out in 2000, just as he was romancing (and mounting) La Zeta-Jones. If only he could have kept it together, career-wise. As far as the whole "leading with my libido" thing, notice how many qualifiers he put in there: "I'm probably more comfortable with myself now, probably not leading with my libido quite as strongly." He's saying that he still leads with his creepy-old-dude libido, but "not as strongly". "Probably." Chuckle.
Michael at an event for the New York Police Dept. on March 16, 2010. Credit: WENN and .