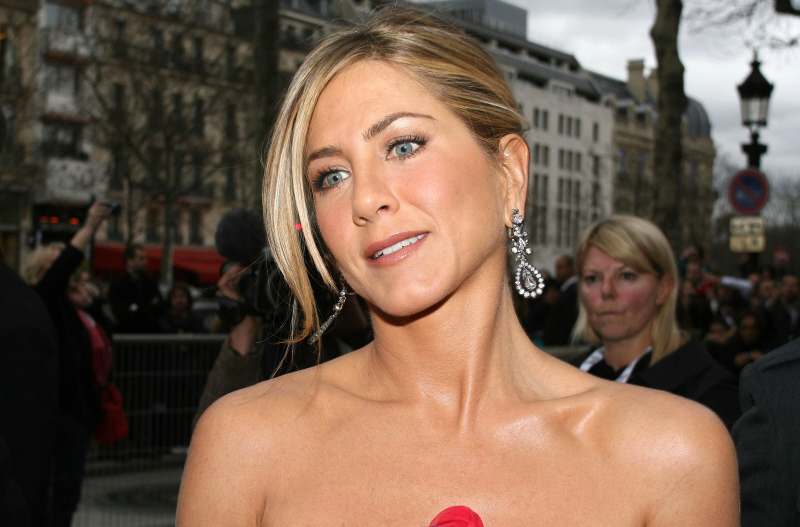 The NY Post [via US Weekly] has a pretty damning article about how Jennifer Aniston's career is faring post-Friends. They quote an anonymous "movie critic" who claims that Aniston is a one note wonder who is no longer young enough to play the romantic lead in films. She's still doing it, although it's unknown how much longer she'll be able to pull it off after the dismal box office performance of her last few films, particularly her latest – Bounty Hunter. The Post's source also has some snarky things to say about her taste in men, and I don't disagree with them:
Even some of Jennifer Aniston's most devoted fans think she should take some time off and reassess her career after her latest flop. "The Bounty Hunter," a heavily promoted romantic comedy with Gerard Butler, has pulled in just $38.4 million domestically in its first 10 days of release.

Last year's "Love Happens," another romantic comedy with Aaron Eckhart, grossed $22.9 million in the US — which was still way ahead of last year's "Management" with Steve Zahn, which grossed a pathetic $935,000.

"Aniston just can't play the good friend anymore. She's aged out, no matter the yoga and the highlights. She just can't do America's sweetheart next door. She needs a big wake-up call," one film critic who didn't want to be named told Page Six.

"And as for her taste in men, it's totally off. John Mayer? Gerard Butler? She's missing a common-sense gene."
One movie producer who also asked to be nameless said, "It's hard for any TV stars to make the transition to movies. Certainly no one else from 'Friends' made it."

As to why Aniston can't break out of the rut and make an action film or thriller, like Angelina Jolie, the producer said, "You don't go from 'Friends' to 'Transformers.' Jennifer is just like one of 15 princesses from Great Neck we met at summer camp."

Though Aniston apparently won't take a vacation, there is some hope, according to IMDB.com. After "The Switch," a turkey-baster comedy with Jason Bateman, and "Just Go With It," in which Nicole Kidman will help Adam Sandler "land the woman of his dreams," Aniston is set to star in "The Goree Girls," a musical set in the 1940s about a group of incarcerated country-western performers.
[From The NY Post]
You know, I could go either way on Aniston. I don't see her appeal nor do I seek out her films, but I don't get why people dislike her so thoroughly, either. I also don't think it's all her fault that her movies aren't doing that well at the box office. These type of tepid romantic comedies aren't faring as well lately, especially when pitted against family-friendly blockbuster 3D fare like Alice in Wonderland and How To Train Your Dragon. On the other hand, the film has only grossed $38.4 million in ten days and is unlikely to approach the $88 million domestic take of another romantic comedy also co-starring Gerard Butler – The Ugly Truth. When Katherine Heigl is a bigger box office draw, you know Aniston is in trouble.
As The Post pointed out, Aniston has a couple more romantic comedies coming out before she has a chance to change directions with Goree Girls. Will it be too little too late from Aniston, or will she show us a different side? Judging from her recent interview with Harper's Bazaar, I'm thinking we've seen and heard just about everything we can from her. You never know, though, she could surprise us.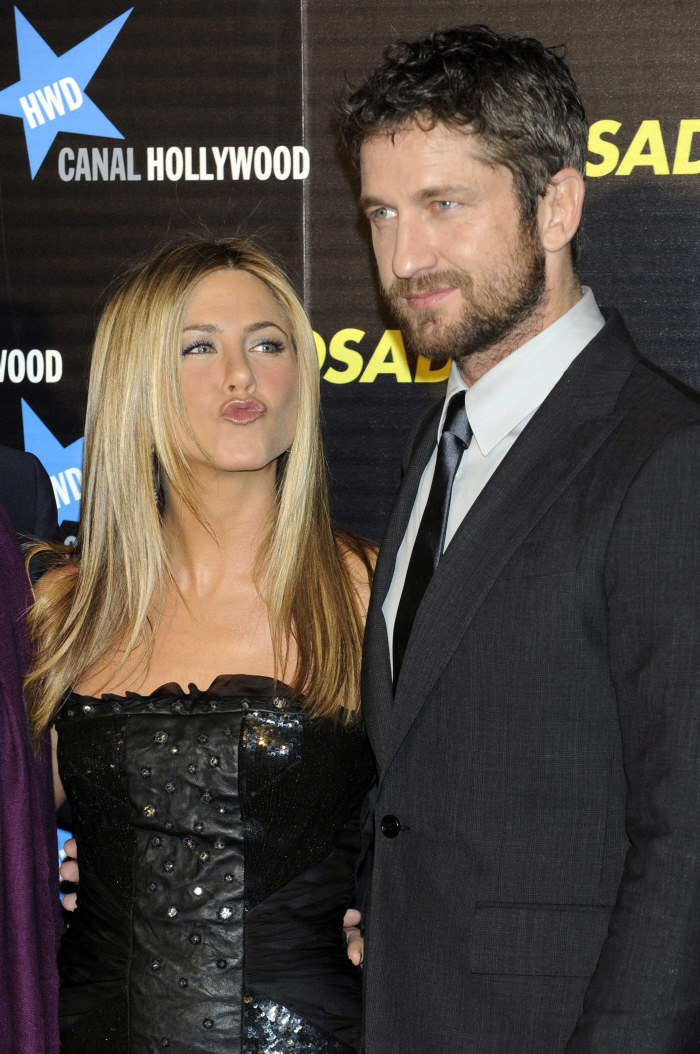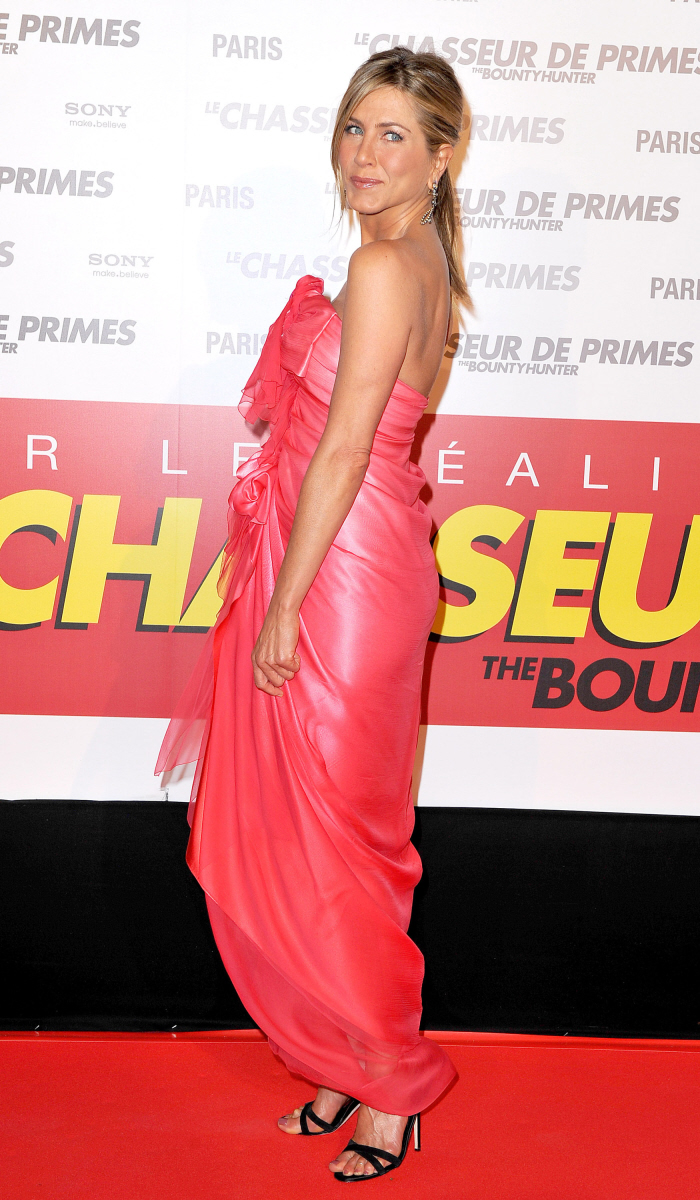 Aniston at various 'Bounty Hunter' premieres. Credit: WENN.