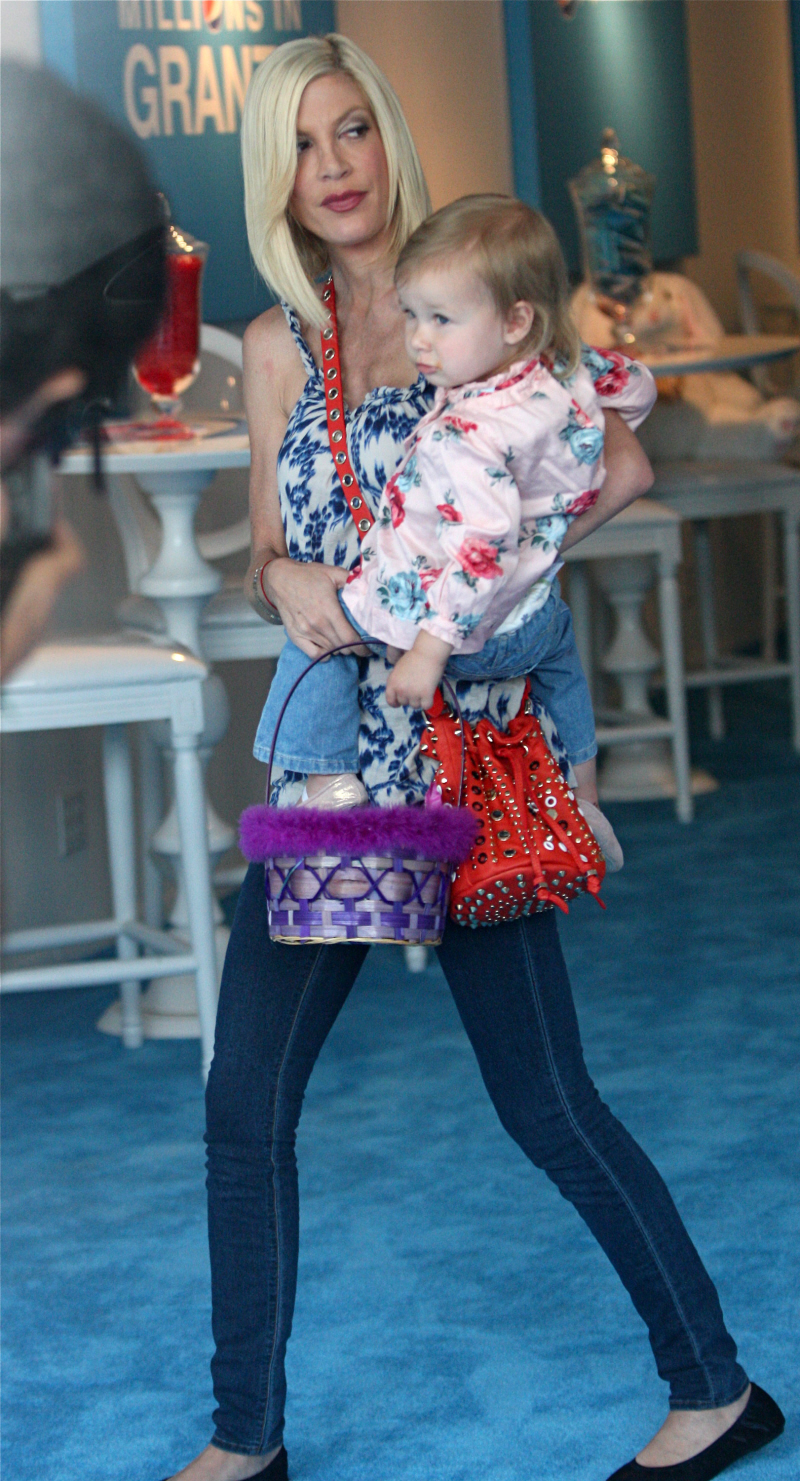 Dear God, why? So, Tori Spelling is all over the tabloids this week, probably promoting the new season of Tori & Dean or whatever. She and Dean sat down for an Us Weekly interview to help draw attention to whatever bullsh-t relationship drama they created in order to sell their show. And you know I usually don't mind Tori, but she's grating on my nerves big time today:
[Tori]… insists it's all par for the course. "There are good days and bad days with everything," she explains. "I'm happy fans will see we have ups and downs like everyone else." But the two remain each other's favorite costars.

"If I were on another series or Dean was, we'd be gone 17 hours a day," Spelling says.

"We get to be together." Echoes McDermott, "It's a lot of fun, and we get to spend time together."

And the duo love to be close, lazing around on mornings with 22-month-old daughter Stella and on Liam, 3.

"We feel like everything family-wise revolves around the bed," Spelling says. "We call it cozy time." Even more fun: Both kids have distinct personalities. "Liam's mellow," Spelling says. As for the more outgoing Stella? "She's into fashion," Spelling reveals. "She obsessed with shoes, and starting to pick out her own outfits!"

Meanwhile, Spelling and her mom, Candy, have put their long-standing feud – which peaked after Aaron Spellings's 2006 death – to rest.

"She's a very doting grandmother," Spelling gushes. It's great for us, it's great for her. Everyone wins."
[From US Weekly, print edition, April 12, 2010]
Eh. Do I believe that they're probably pretty happy together? Kind of. I always say this when I'm talking about Tori and Dean, but I'll just say this sh-t again – they're not very good actors, and when I watch Tori & Dean, I think they genuinely love each other. Whatever.
Star Magazine does not have an interview with Tori or Dean, so instead they're running yet another "Tori is scary skinny" piece. It's basically a series of comments from "eyewitnesses" who recently saw Tori on a red carpet, but some of the insults lodged at Tori are slightly funny just for the sheer meanness:
At the How to Train Your Dragon premiere, one mom stood out.

"There was a woman holding a young child in front of me, and she looked absolutely emaciated," says an eyewitness. "She was wearing a backless dress, and you could plainly see her chicken-wing shoulder blades and the outline of all her ribs sticking out against her skin. I thought, 'This poor woman. She must be ill.' Then she turned around and it was Tori Spelling! Her eyes seemed to be sunken into her head, and I gasped at her sickly appearance."

An insider tells Star: "Lots of Tori's friends have always secretly believed that Dean only married her for the fame and career opportunities. And now Tori may have some doubts herself about his commitment to their relationship – and the strains has been taking a huge toll on her eating habits and physique."
[From Star Magazine, print edition]
Blah, blah, blah, there's more stuff about the new season of Tori & Dean that reads like a promotion. But Star also notes that Dean has been spending $5000 a week on motorcycle stuff, and that Tori has been "constantly pleading" with Dean to cut back. Oh, and Tori is paranoid about Dean leaving her, and she's always checking his cell phone and e-mails. All of which makes her more neurotic, and makes her lose more weight. Vicious cycle. My thoughts on Tori's weight is actually a lot like what I think of Angelina Jolie's weight loss – I think some women's bodies just go haywire after they give birth, and their metabolism gets f-cked up, and it becomes difficult for them to keep weight on. Granted, both women probably do need to eat more and eat healthier, but I'd be willing to bet that Tori isn't starving herself or anything.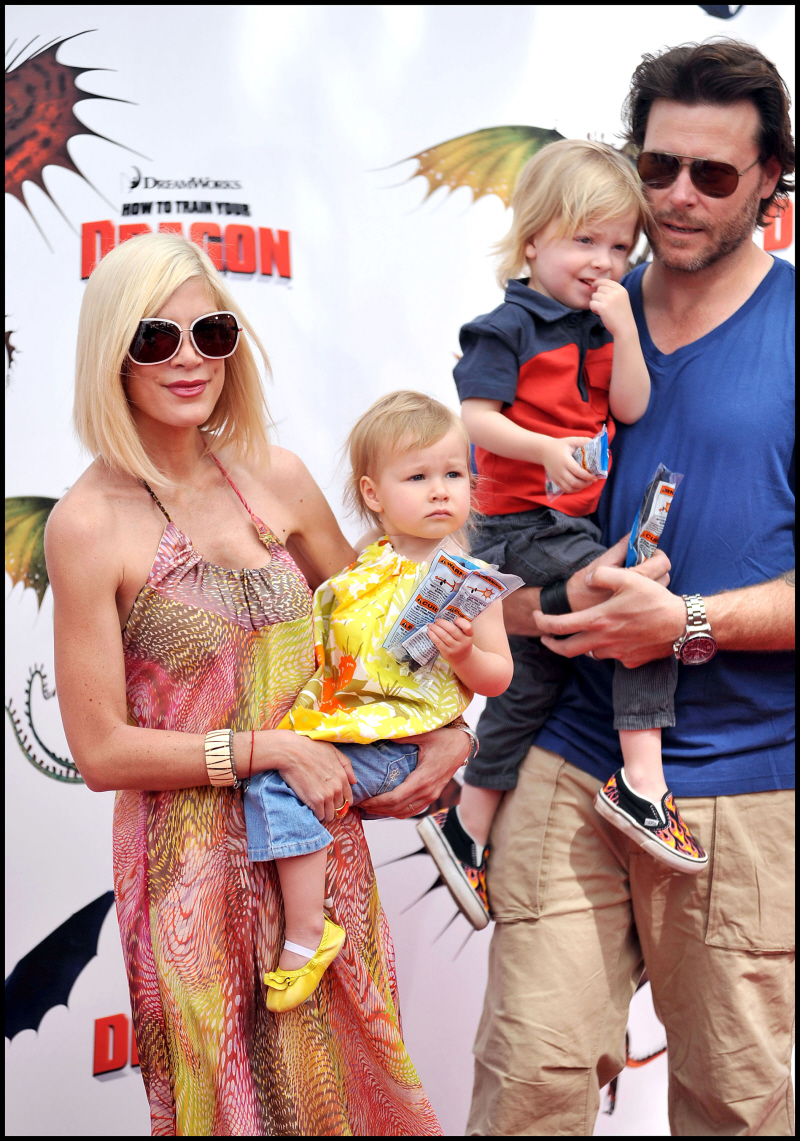 Tori and Dean on 3/21 & 3/25 in LA, credit: WENN.