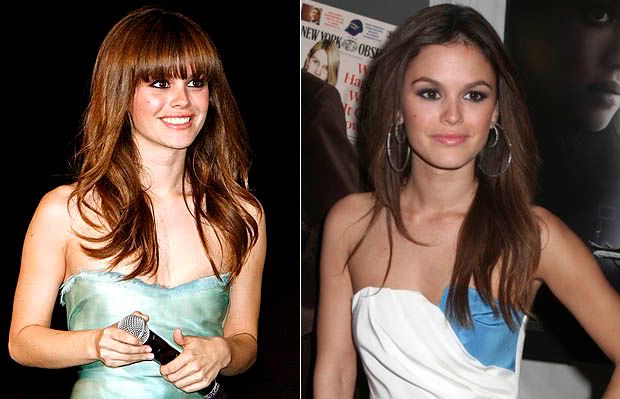 Rachel Bilson just made the cardinal mistake with the popular but questionable "helmet hair" style that is sweeping Hollywood and the female masses. She went for the full bang treatment while leaving her hair long and not taking enough volume out to make it sleek and straight. In my opinion this cut doesn't work for thicker hair unless it's thinned out to achieve a sleeker, smoother style like Katie Holmes or Christina Ricci.
We covered the helmet hair phenomenon in an earlier post, and Bilson looks like Elle Macpherson now. They're both gorgeous women but the heavy bangs don't suit their longer, thicker hair and just make them look like night creatures peering out from beneath a mass of fur. The hair takes over their face and becomes the look and the features are secondary.
Bilson looked so much prettier before she covered half her face with a continuous curtain of hair. Don't fall prey to this latest hair trend! You can sweep the bangs to the side until they're grown out, but there is a real risk of depression with a bad haircut. Just ask Javier Bardem.
Thanks to PRPhotos for these pictures from the Jumper Tokyo premiere on 2/26. Bilson is also shown on 11/14/07 at the Awake premiere for comparison. This haircut is recent as she was seen on TRL without bangs earlier in the month.