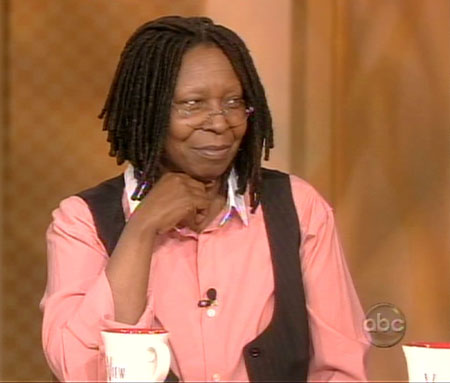 Whoopi Goldberg and her colleagues on The View wondered aloud on Monday why the comedian wasn't shown hosting the ceremony in the many clip montages shown at Sunday night's Oscars. Whoopi was the first woman and the first African American to host the top Hollywood awards ceremony, and she served as emcee in 1994, 1996, 1999, and 2002. There was no specific clip montage dedicated solely to the hosts, but one that included other hosts didn't have anything with Whoopi. She was seen accepting her award for best supporting actress for 1990's Ghost. (She was the second of four black women to be awarded a statue in the event's 80 year history.) Whoopi also mentioned on The View that she didn't see two time host Steve Martin in any of the clips, either.
The producer of the Oscars has spoken about the slight, and unlike Brad Renfro's exclusion from the In Memoriam clip, which they didn't say was a mistake but claimed "It is simply not possible to include everyone in that segment," Whoopi wasn't left out on purpose:
"No harm was intended, and I feel very, very badly that she was left out," Gil Cates said Tuesday. "I'm going to call her and tell her that."

Although described as a montage of hosts, the piece shown at Sunday night's telecast on ABC was actually "supposed to be a montage of 80 exciting moments of the Academy Awards" culled from hundreds of hours of footage, says Cates. "Basically, that was not a montage about hosts."

He noted that former host Steve Martin also wasn't in the montage.

Still, Cates said, "It was an absolute oversight" to leave out Goldberg, an Oscar winner and nominee who had hosted telecasts that Cates himself produced.

"I asked her to be on the show. She did it twice," he said. "She is a formidable talent."
[From People.com]
They were probably just looking for the most sensational clips and were scrambling to put those segments together ahead of the show. More care should have been taken to make sure that people were honored that deserved to be, though.
We thought that the Oscars were the most entertaining ever this year and although they were long they kept it moving well, with both funny jokes and well produced clips. Not many journalists agreed with us, and neither did the viewing audience. People called the Oscars unfunny and antiquated, and way too long to fit into anyone's schedule. The Oscars had their lowest rating ever this year, which might also have to do with the fact that no blockbuster films were nominated. Only Juno took in more than $100 million at the box office, and that started out as an indie film.