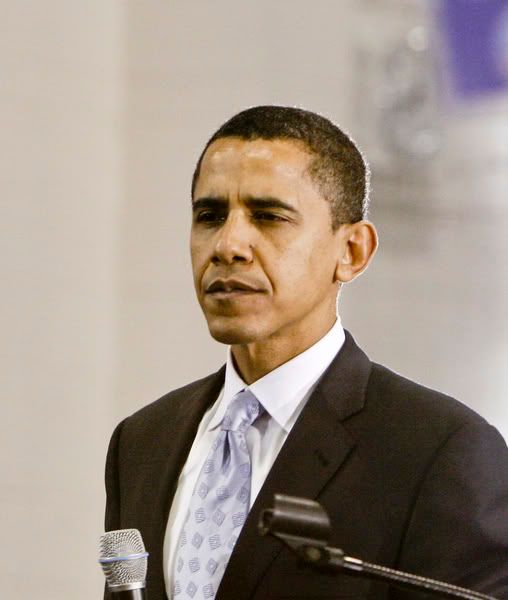 I'm torn in my feelings for Barack Obama. On the one hand, I think he's amazing. On the other, I find it distracting to see someone so attractive running for president. Do you all remember that photo of him on the beach a few years ago? Yeah, distracting. Can you imagine trying to focus on his State of the Union speech? Although I will admit with much embarrassment that I occasionally had the hots for Clinton, so I guess I can get over it. Obama gave a celebrity-friendly interview to Us Weekly in which he said his daughters Malia, 10, and Sasha, 7, are aware of Britney Spears and her ilk, but think she's "yuck." Anyone with kids that smart is good by me.
Do your daughters Sasha and Malia ever ask about Britney Spears?
Actually, yeah. But they're very sensible. They're pretty down on Britney and Paris and all of that. They think that's very "yuck." They're way more into Hannah Montana and Beyonce. They got to go backstage and meet Beyonce and they just love her to death.

Your supporters include Oprah Winfrey. Ever been starstruck?
I don't really get starstruck. Everyone I've met has been very nice and friendly, like Kal Penn. During the writers' strike, he was like a staffer! And Scarlett Johansson has been traveling a lot. George Clooney is a good friend. He and I worked on Darfur issues together. I'm always impressed by people who do their homework… and use their celebrity to advocate for issues. George does that just about as well as anyone I know.
[From Us Weekly]
But leave it to Us Weekly to make sure an interview doesn't accidentally sink into something with a little bit of elegance and class. They had to launch into the trite and lame "boxers or briefs" question. But Obama put them into their place pretty quickly – but still gave a good answer.
So, boxers or briefs? Bill Clinton said he wore boxers in a 1992 interview with MTV.
I don't answer those humiliating questions. But whichever one it is, I look good in 'em!
[From Us Weekly]
I would be that's a very true answer. I'm just waiting for some reporter to ask Hillary Clinton what size bra she wears. Or maybe "underwire or soft cup?" "Maxi pads or tampons?" What ridiculousness. I curse Bill for ever answering the question. Actually it's fine that he rolled with it; I curse whoever asked in the first place. You'll notice that no ever asked Bush what was going on underneath his trousers. Shudder at the thought. No one would dream of asking Huckabee what he's sporting down there. Though I think McCain is still fair game.
Here's Barack Obama campaigning at Del Sol High School in Las Vegas on January 11th. Images thanks to PR Photos.