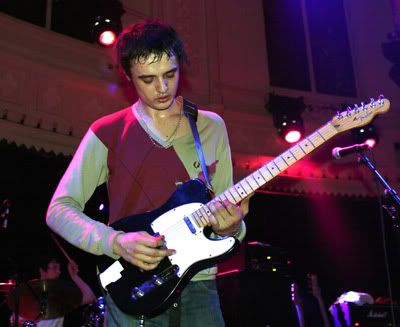 Last weekend I took a cheap ass EasyJet flight with my family to Berlin. In case you're not familiar with EasyJet, it's the Southwest Airlines of Europe. You can sit wherever you want, but drinks and snacks are expensive and there are no TVs. The flight over was decent, but on the way back a British stewardess with an attitude named something like Jenine was wearing perfume so heavy it permeated the entire plane and gave my husband and me a headache. (I'm writing this on the off chance that my bitching will get back to the management at EasyJet without me going through the trouble of writing a complaint letter.)
Anyway Pete Doherty, the lead singer of BabyShambles and Kate Moss' on and off boyfriend, was on an EasyJet flight and took an extra long time in the bathroom. EasyJet staff found a bloody syringe hidden in the trashcan afterwards, so of course they had to blame poor Pete.
An EasyJet spokeswoman said crew found "a syringe hidden in a bin, covered in blood" in the plane's toilet.
Spanish Guardia Civil met Doherty and four friends but found no suspicious substances in the lavatories.
They were not arrested. Doherty's band Babyshambles played at the Primavera Sound Festival in the city on Thursday.
The EasyJet spokeswoman said the crew became suspicious after Doherty spent "an unusual amount of time in the toilet".
After the discovery of the syringe, Doherty was questioned by crew and became "agitated and aggressive", the spokeswoman said.
The captain contacted Spanish police, who met the plane, which was held on the ground for about half an hour.
Officers only found a bottle of heroin substitute methadone, which Doherty is taking as part of a drug treatment programme.
Aviation regulations mean passengers must inform an airline in advance if they are carrying a syringe for medical reasons and Doherty failed to do so, EasyJet said.
Pete likes to create art while he's taking a dump and it's ridiculous that EasyJet staff would deny him the pleasure. It's already hard enough for the guy to catch a break without getting questioned over every little bloody syringe! Those EasyJet flights are so uncomfortable and the staff is paranoid and unaccommodating.
Pete and his Babyshambles bandmembers are permanently banned from all EasyJet filghts now, and they should be grateful not to have to go through that again.
Here are some Pete Doherty fans outside of his case review hearing at Thames Magistrate Court on 5/12. Love the devil guy.