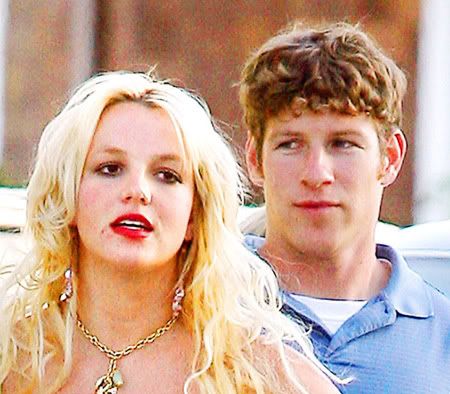 Everyone was confused about Britney's new baby-loving male companion. Some claimed it was her producer, J.R. Rotem and there was even one crazy rumor that we zealously reported that Britney was having an affair with her producer and that the baby she's carrying might be his.
Later the guy was confirmed to be Britney's male nanny, who perhaps does double-duty as a bodyguard. People were calling him by the uncommon name "Perry."
It turns out the guy's real name is "Henry," and he seems rather likeable from this brief description:
Britney Spears was spotted out and about Wednesday in Malibu. But this time, the songstress had company — and it wasn't Kevin Federline!
Baby crazy Brit was seen holding little Sean P. in her arms as the mystery man pushed the stroller in Malibu.
Now only "Extra" has the dish. Sources say the hunk is Britney's new nanny, Henry, and he was simply accompanying Brit on a mommy and me outing in the seaside town.
We caught up with Henry as he purchased flowers, and it looked like this tough guy wasn't scared of a little paparazzi loving. When asked if he was Brit's security, he simply smiled and walked away.
Britney has an absent and soon to be ex – husband, but she has a sweet male nanny and a brand new Porsche! She was spotted out in the hot new convertible taking driving lessons so that she can learn to drive standard.
She's giving the bird and hopefully the boot to Kevin, and taking back her life.
Here is Britney out driving her new car with a male instructor – not the manny. [via]
Update: This guy's name is actually Perry, and you can read more about him here.
Related: