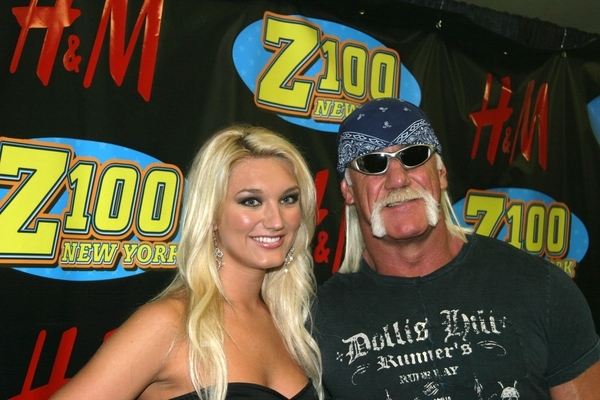 Hulk Hogan and his daughter, Brooke. The woman Hogan allegedly cheated with is Brooke's best friend, but is not as young as his daughter and is 33
Wow, just when I thought the Hogan family couldn't sink any lower, reports have surfaced that Hulk Hogan, aka Terry Bollea, began an affair with a 33-year-old woman over a year ago– and the woman is one of his daughter Brooke's best friends. Christiane Plante, who helped Brooke Hogan with her pop album and was close with the family, admitted to the National Enquirer that she began an affair with the former wrestler a year ago. She claims that Hulk and wife Linda Bollea were already separated by then and were only staying together for the TV cameras.
"My relationship with Terry [Hulk Hogan] began at a time when Terry and Linda privately knew their marriage was ending. She had left him already, although no official papers had been filed. Terry is a good man, good father and a good friend, and he and I grew close at a time when he was going through a very difficult period. It seemed right then, but I know it was wrong. Having felt the guilt and pain build up, I gave a note to Brooke apologizing for my actions. I will never be able to fully forgive myself for this. I have lost an amazing friend."
[From National Enquirer, print edition, March 10, 2008 as found on The Post Chronicle]
Brooke Hogan blogged about the situation earlier in the week, but the blog has since been taken down.
It should be noted that Linda Bollea did not file for separation from the Hulkster until Nov. 20, 2007. While it is entirely possible that the couple stayed together to salvage their hideous VH1 reality show, it doesn't change the fact that legally and publicly, Hulk was very much a married man at the time of this relationship.
For once, I actually kind of feel sorry for Brooke. It's bad enough that her parents are completely dysfunctional human beings and terrible role models through their selfish, narcissistic behavior– but now it seems she can't even trust her own best friend. This whole thing has to hurt.
Note: I tried to find a photo of this Plante woman, but she's done a good job of staying under the radar until now. I'm still trying to figure out what motivated her to go to the Enquirer– I have a few gue$$e$, but I'm $till $peculating.