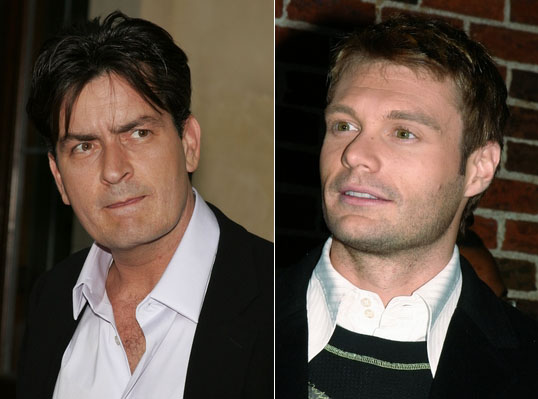 The open animosity between former spouses Charlie Sheen and Denise Richards just keeps boiling. After Denise went to court to gain the right to feature their two young daughters on her upcoming reality show, Sheen and fiancé, Brooke Mueller, have gone on the offensive, urging people to boycott the show and calling it exploitive. Now, Sheen is placing the blame squarely on the tiny head of the show's executive producer, Ryan Seacrest.
Charlie Sheen is so furious with Ryan Seacrest for producing his ex-wife's upcoming reality show that he wants to punch the TV host's lights out–and that's no "Idol" threat, say sources.

The "Two and a Half Men" star has been locked in a bitter feud with Ryan ever since Seacrest and E! Entertainment signed a deal with Denise Richards for a summertime series and her two small children with Sheen, Sam, 3, and Lola, 2.

"Charlie opposed this thing right from the start," a pal told the Enquirer. "He thinks it's wrong for Denise and Ryan to be exploiting the kids."

Charlie, 42, was so livid her took the matter to court, but a judge gave the project a green light. After that, Charlie — who has been friends with Ryan, 33, for more than 12 years– called the "Idol" host several times, trying to convince him to stop working on the series.

But Ryan refused to budge, saying, "I'm sorry, but this isn't about friendship, it's about business."

Charlie screamed at him: "How could you do this to me?" said the source. "How can you allow my children to be used as pawns like this just so you and Denise can make money off them? The two of you are despicable! You are the scum of the earth, lower than low! And you better watch out, pal. Right now, I'm so mad I could punch your lights out!"
[From The National Enquirer, print edition, March 3, 2008]
The article goes on to say that Sheen's publicist denies that this conversation ever happened. But I, for one, hope that this time, The Enquirer is right. I'd love to see Charlie wipe the floor with Ryan Seacrest, although it wouldn't really be a fair fight. I'm so sick of Seacrest and his ridiculous antics. He's been humping America's leg for seven years as the host of "Idol," and his ego seems to be out of control, as evidenced by his completely inappropriate interviewing skills during the red carpet segment of the Academy Awards.
The real victims in this whole situation are Sam and Lola. There has not been a single indication in these girls' young lives that they have any desire to be in the public eye– in fact, every time Denise drags them to a movie premiere or event, they looks absolutely miserable. Why does she insist on thrusting them into the spotlight when they clearly do not want this kind of lifestyle?
Charlie Sheen and Brooke Mueller are shown below at An Evening with "Two and a Half Men" at The Academy of Television Arts & Sciences on 2/27/08, thanks to PRPhotos.