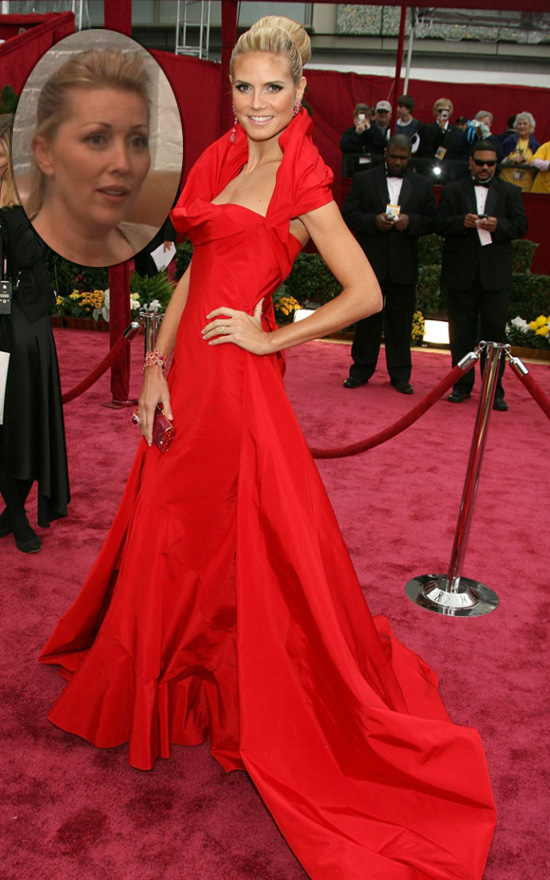 Project Runway's fifth-place designer, Sweet P., was asked by MTV to do a live blog on Oscar Night, covering the red carpet arrival of all the stars. Sweet P.'s first critique was of Project Runway's host, supermodel Heidi Klum.
My first victim is … oh, how apropos …Heidi Klum in a great-fitting red Galliano gown. Of course, she is stunning, but I do not like the big collar thing — it looks as if Galliano was inspired by Christian & Chris' avant-garde look. A bit too Cruella de Ville! She still looks gorgeous, though. I do like that her dress will be auctioned off to benefit a charity.
Maybe it wasn't the best move to criticize her former host and judge, but I have to say, I agree with Sweet P. In fact, when Celebitchy, Jaybird and I were chatting live during the red carpet arrivals, I had the very same opinion of the dress. Then again, if it weren't for Heidi and her show, nobody would know who Sweet P. is, and she wouldn't have landed that MTV gig. It also wasn't very cool of her to slam Chris and Christian's avant-garde look– after all, Chris and Christian beat out Sweet P. to the finals of the show and their avant-garde dress actually won the challenge. The whole thing has a faint whiff of sour grapes, if you ask me.