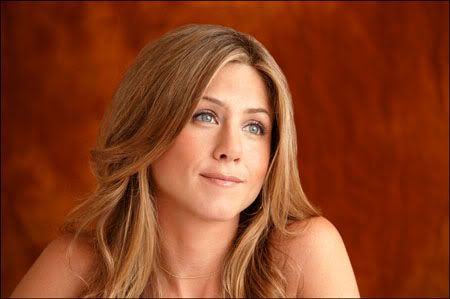 There's a popular editorial about Brad and Angelina called "Brad, Angelina and the rise of 'celebrity colonialism'" The author sites the harsh tactics of their thuggish security staff, and says that Brad and Angelina are occupying Africa to make themselves feel like patrons:
It may sound shocking, but in truth Pitt and Jolie's trip to Namibia is really only a more extreme version of today's 'celebrity colonialism', where celebs go to Africa (or some other poor part of the world) to make themselves feel 'special'. Africa in particular has become a stage for such moralistic poseurs – and their posing can have a detrimental impact on the people who live there.
Of course Africa still has vast problems of under-development and poverty – but they will not be helped by the kind of campaigning or patronage offered by Brown, Bono, Bob or Brangelina. Rather, this brand of moral grandstanding suggests that Africa has become a kind of plaything for some campaigners, a backdrop against which they can make themselves feel good and 'special'.
The author makes a decent point, but he overlooks the fact that people pay attention to everything celebrities do, and that most of them are shallow and self-absorbed. Most celebrities are content to serve as billboards for overpriced jeans and unattainable handbags. When Brad and Angelina go to Africa for a little peace and quiet they're using their extreme fame in a genuine attempt to bring attention to problems on the continent. They need to fire their abusive security staff and stop being so aggressive with the paparrazi, but why bash them for trying to use their fame for a good cause?
Jennifer Aniston said she's not interested in contributing to important causes like her ex-husband and his gorgeous fertile girlfriend. She doesn't care to be criticized for bringing media attention to the world's impoverished, and would rather get mocked for her lack of acting ability and poor personality:
Aniston was sitting at a press conference in Los Angeles to promote her new comedy, The Break-Up, when a reporter asked if she was interested in using her celebrity to tackle any of the world's important issues.
Pitt and Jolie, in between giving birth to daughter Shiloh Nouvel, have been vocal about Africa, AIDS and refugees.
So, was Aniston interested in any global issues? How about the war in Iraq or global warming?
"No," Aniston replied. "I'm not interested in any of that."
"I like to just focus on me and my tabloid career."
Her deadpan answer, dripping with sarcasm, scored plenty of laughs.
Ok, she's not interested in world affairs at all? Not just a little bit? I mean, we pay a lot of attention to celebrities because it's easier than facing the fact that the US is killing innocent civilians in an illegal war, but we also catch the regular news too.
She said she's not interested in world events and wants to focus on herself. Even if she was trying to make a joke, Aniston makes it seem as if she doesn't care about anything but herself.
Her crappy movie, "The Break Up," opens today. If it gets universally panned as expected, Aniston can say goodbye to her film career. Her maybe boyfriend, Vince Vaughn, will weather this storm but she won't:
If this movie sucks balls as much as pre-reviews hint at*, all [Vince Vaughn] has to remind people of is Made or Wedding Crashers or Old School. Jennifer Aniston though, she has nothing.
She has nothing indeed. Not even a little bit of curiousity about the world beyond her giant chin.
Here are some portraits of Aniston taken by Armando Gallo at a press conference for "The Break Up" on 5/19.
[via]