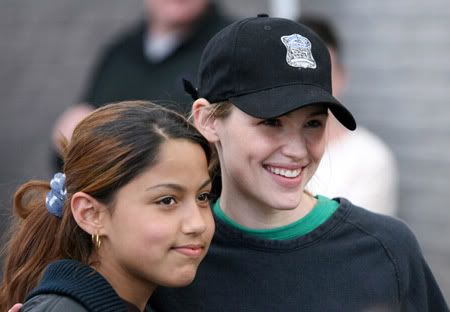 Jennifer Garner was offered the role of Pamela Ewing in the upcoming "Dallas" movie, but she decided not to do it after learning that J.Lo had already signed on to the project. Seems like Garner has a healthy fear of her husband's big-bottomed Latina ex:
JENNIFER GARNER reportedly turned down the role of PAMELA EWING in the forthcoming DALLAS movie, after discovering her husband BEN AFFLECK's ex-fiancee JENNIFER LOPEZ had signed to star in the remake. The ALIAS beauty started dating her DAREDEVIL co-star in July 2004 – seven months after the actor ended his high-profile engagement with J.Lo. British newspaper the Daily Mail claims Garner was in talks to play BOBBY EWING's wife Pam, but backed out when she realised Lopez would be playing JR's alcoholic wife SUE-ELLEN. A source says, "Jennifer Garner was really keen to be in Dallas, but I think she felt there would be a bit of a strain between them on the set and that could have led to awkward situations. "Both are totally professional, but there might have been a certain 'atmosphere' and Jennifer Garner didn't need to go there."
Garner has a happy relationship and a gorgeous baby with Affleck, the man who put a stop to J.Lo's lavish wedding and gradually dumped her through passive aggressive behavior. Now all J.Lo has is a skeletal husband and a fat stomach that she wears mumus over in an attempt to get people to think it's a baby bump.
It doesn't matter how rich or successful J.Lo is, Garner will always be happier and more content because she's just a genuinely kind, positive person. Judging from her decision to stay away from J.Lo, she has a lot of sense too.
Here's Garner on the set of "Gone Baby Gone," which Ben is directing, on 5/24. [via]