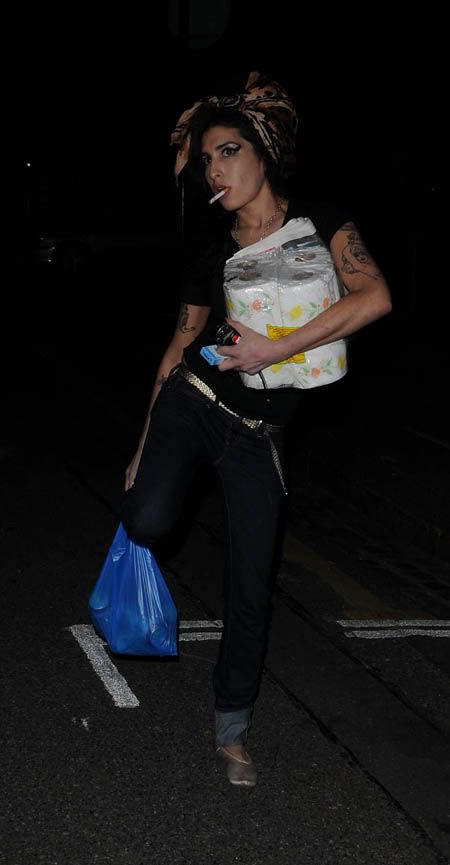 Blake Fielder-Civil appeared in court yesterday to plead not guilty to the charge of attempting to pervert the course of justice (The wordy U.K. equivalent of witness-tampering). What's notable about this appearance is that his devoted wife Amy Winehouse was not there to cheer on "my Blaaaake, incarcerated" like she usually does. Instead, Amy was getting settled in at her new apartment while spending time with her sober companion, Blake Wood.
Fielder-Civil, standing in the dock alongside three other men, also facing conspiracy charges, spoke only to confirm his name and enter the not guilty plea.

Grammy Award winner Winehouse, who recently spent time in rehab, has previously appeared in court to support her husband.

When he appeared at Thames Magistrates' Court in November, the singer blew kisses and mouthed: 'I love you,' to him in the court room.

But it was a very different scene today.

Wistfully staring towards the public seats, greasy and unshowered Fielder-Civil, wearing a grey sweatshirt and tracksuit bottoms, ruffled his hair in apparent agitation.

After he and co-defendant James Kennedy, 19, from Hatfield made not guilty pleas for conspiring to pervert the course of justice Blake offered a rueful smile to the dock officer and kept glancing towards the public gallery.

While lawyers discussed the date and format of his trial Blake was visibly distracted turning round every time somebody came into court. By the end of proceedings as he was led from the dock he looked fed up.
Awww, poor widdle Bwakie.
People Magazine notes that Amy's visits to "Blake, Incarcerated" are becoming less frequent.
Amy Winehouse failed to turn up to court in London Friday to see her husband Blake Fielder-Civil plead not guilty to charges stemming from a pub brawl.

Fielder-Civil's mother Georgette, a fixture at his court dates, also did not appear.

The normally merry Fielder-Civil – dressed in a gray Gap sweatshirt and jeans – was subdued during the two-hour hearing. He pleaded not guilty to conspiring to pervert the course of justice, a charge which arose from his being accused of causing grievous bodily harm to a pub landlord in June 2006.

A source close to Winehouse says, "She's a mess at the moment. I don't think she's visiting him much either."

Fielder-Civil is allowed two visits per week while incarcerated. And because of Winehouse's fame, the couple's visits are no longer held in the prison's communal area, which the source describes as "like a really nasty [cafeteria]."

Winehouse moved to a new apartment in London's Camden neighborhood on Wednesday as a hearing on her and Fielder-Civil's appeal of a fine for marijuana possession was postponed.
I would love to speculate that Amy is finally wising up about this manipulative little twit she calls a husband, but I don't think that's the case. Most likely, Amy was busy with moving and didn't have time to haul her skinny butt all the way to the courthouse just to see "my Blaaaake" for, like, five minutes while he pled not guilty. She was photographed moving her stuff out of the old place and showed photographers a famed photo of her with Blaaaake, so I'm sure she is still pining away for him just like always.
Note by Celebitchy: There are rumors that Amy is doing drugs again, and she was recently photographed with scratches up and down her left arm, suggesting they may have been self-inflicted. She also caused a mess at her hotel room before the Brit Awards, with champagne bottles laying around, booze on the floor, and black hair dye in the tub. She even supposedly put a big mirror on the floor. Stay sober, Amy!
Amy is shown out with a friend, not the good Blake, on 2/27/08, thanks to Splash News.