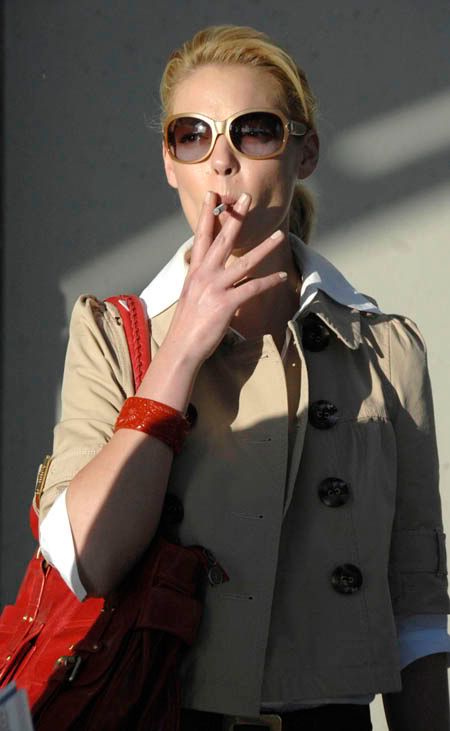 Katherine Heigl is anxious to continue her film career and doesn't want to be tied to the role that made her famous, Dr. Izzie Stevens on the hit show Grey's Anatomy. – possible spoiler alert –
Word has it that Heigl has asked producers to kill her off her character on the show because she doesn't want to be known as just a television star, and wants to break into movies full time.
After starring in the hit films Knocked Up and 27 Dresses, Katherine believes she has outgrown the small screen – and her agent is working overtime so she can devote herself full time to movies, sources say.

"Katherine has even suggested to 'Grey's' producers that they kill her character Dr. Izzie Stevens in dramatic fashion so her exit could bring in huge ratings," a pal of the 29-year-old Emmy winner told The Enquirer. Newly married to rocker Josh Kelley and riding high on her box-office appeal, Katherine has formed a production company with her mother Nancy, whos her manager, and she's being swamped with movie offers, said the pal.

But leaving "Grey's Will be an uphill battle because her contract with Touchstone and ABC is ironclad for the next two years, according to another source.
[From The National Enquirer, print edition, March 10, 2008]
The article goes on to say that Heigl might have to fight this out in court if producers don't agree to let her out of her contract. You can see her trying to do this, and given all the stories that have come out about the fighting and sniping on the Grey's set, it's probably not the easiest place to work. Heigl said earlier that she didn't know where producers were going with the series and called her character Izzie's storyline a "ratings ploy."
Heigl was really nervous as a presenter at the Oscars and her voice was shaking and cracking. She said afterwards that she felt out of her league and like a fan rather than someone who belonged there. "It was kind of surreal. I just felt very out of my league, you know? I was sitting behind Cate Blanchett and Jack Nicholson and sitting next to Renee Zellweger. I kind of wanted to get out my iPhone and take pictures."
She's explaining why she was nervous, and that's nice I guess, especially considering how much smack she normally talks whenever she has an audience. I think she's full of herself and courts the paparazzi too much. Other people like her because she's so outspoken, but she shares too much for my tastes.
Splash had some photos of the police arriving at Heigl and her new husband Josh Kelly's house on Tuesday. A neighbor had called them because he was sick of the paparazzi hanging around outside all the time.
Here's Heigl having lunch with her mom and two interior designers yesterday. I hate it when people smoke when I'm trying to eat. Even when you're outside it still gets in your space and makes your hair and clothes smell. Thanks to Splash News.