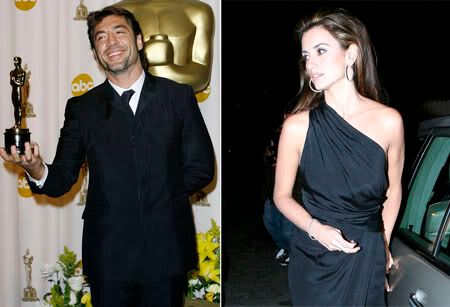 Penelope Cruz has dated some of the most famous leading men in Hollywood, including Tom Cruise and Matthew McConaughey, but has somehow managed to escape settling down with any of them for too long. Now, sources say her under-the-radar romance with recent Oscar winning actor Javier Bardem is really heating up. The couple met while filming a Woody Allen movie together last summer. They were photographed back in October taking a romantic vacation together, and have been occasionally snapped by paparazzi walking together, but neither of them will comment on the relationship. Since Javier's career exploded after his star-making performance in "No Country For Old Men," the couple have had to work a lot harder to keep their relationship under wraps.
Penelope Cruz doesn't want to publicly show off her relationship with Javier Bardem, but he's showing her off to his family. Cruz, who was snapped with Bardem's mom after the Oscars, threw a private party for her trophy-toting beau at Villa on Sunday night. Bardem's family flew in from Spain to meet Cruz and partied with the couple – along with the Oscar-winning Coen brothers – at the West Hollywood hot spot. One onlooker told us, "He took Penelope for a spin on the dance floor in front of all his family. It's getting pretty serious."
Friends say Penelope is the one who is trying maintain privacy, after her previous relationships with Cruise and McConaughey were splashed across tabloids and ended so publicly. Penelope and Javier both attended the Oscars this year, but walked the red carpet separately- Javier told interviewers his date for the evening was his mom. The next day, photos emerged of Penelope and Javier trying to sneak away after the ceremony in the same car.
Penelope doesn't have much of a long-term track record, but I am rooting for this couple. They are just gorgeous, and they both have that exotic flavor in common. I bet they'd have adorable babies.
Note by Celebitchy: Here's Penelope Cruz out with Javier Bardem's mom after the Oscars. When I saw these pictures I thought "Wait until she marries that guy, she'll be fighting with his mom in no time."