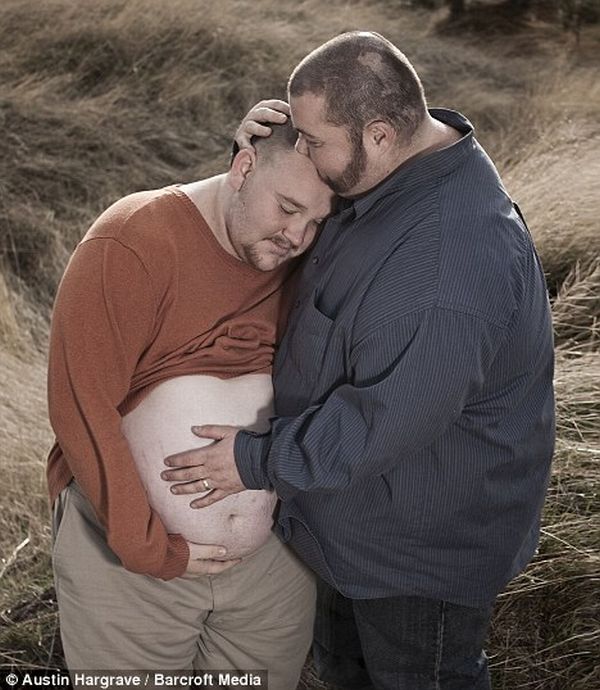 Scott Moore and his husband Thomas look like a couple of big biker guys, but they were both born women and are now a legally married transgender couple living in California. Scott and Thomas welcomed their first child together into the world in March, a baby boy named Miles who was born to Scott. Scott, 30, still has his female reproductive organs but had his 36DDD breasts removed back when he was a teen named Jessica. The couple are also parents to Thomas' two children, Logan, 10, and Greg, 12, from a relationship he had with their mother, who has since passed away.
TMZ has photos of Scott and Thomas cradling little Miles, and they look like a couple of tattooed dads cooing over a newborn. If you consider the circumstances it can seem confusing, but the most important detail is that the baby is loved and cherished by both of his parents. I see a happy family celebrating a new arrival, but there will be those of you who disagree and will go on about it. It can be kind of jarring to see a big guy who's pregnant. When you consider how far both dads went to honor their true identities, the story is all the more impressive.
Moore is the second "pregnant man" to disclose his pregnancy to the media. Transgender man Thomas Beatie gave birth to a little girl in July, 2008. Beattie's wife Nancy, who is infertile, breastfed the baby after undergoing hormone treatments to induce lactation. Beattie had a boy a year later and is now reportedly pregnant for the third time.
Maybe in 20 years we'll reach a point in society when it's no longer news that a transgender person wants to have a baby they're biologically capable of carrying. It seems like we should have been there a long time ago.