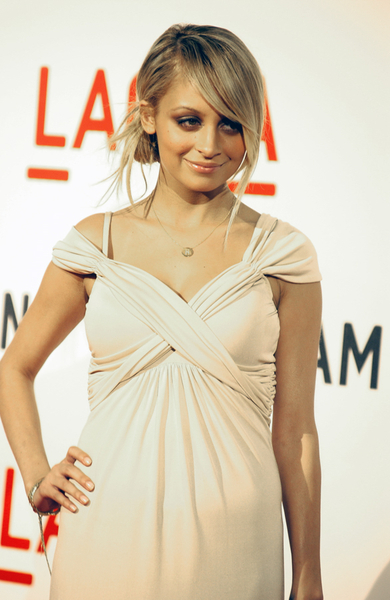 New mom Nicole Richie is in talks to star as the lead in the Broadway musical Chicago, according to US Magazine. She has a lot on her plate right now with 6-week-old baby Harlow she told People Magazine that she has a perfume, maternity line, children's line, and a jewelry line in the works. Sources tell US Magazine that she's considering the role:
Nicole Richie has been offered the lead role of Roxie Hart in the Broadway production of Chicago, Us Weekly reports exclusively in its latest issue, on newsstands now.

Richie, 26, who welcomed daughter Harlow with Joel Madden on Jan. 12, is undecided.

"She's definitely interested and weighing it out with the timing of the baby," a Richie pal tells Us. "It is in the super early stages of discussions and no decision has been made yet."

"It would give her a reason to really show her talent and to stay in the new place in NY Joel just got," the source says. "It also shows people are really excited about Nicole right now."
[From US Weekly]
Chicago originally ran on Broadway in 1975 for 936 performances. It has been running since 1996 in its current form, making it the longest running musical revival on Broadway.
Ashlee Simpson drew praise for her post nose job performance as Roxie Hart in London's West End in the fall of 2006.
Other celebrities to play the role of Roxie Hart include Brooke Shields, Lisa Rinna, Melanie Griffith, Bebe Neuwirth and Rita Wilson. [Details from Wikipedia]
Richie is best known for reality television and showing up for stuff so can she act, sing and dance? She might be able to sing.
I remember hearing a song she did called Dandelion. She has a good voice and it doesn't sound too heavily remastered. This is a cover from a few years back, and features photos of Richie set to the song. It's not a video for the song.
Richie is shown out at the Opening Celebration of the Broad Contemporary Art Museum on 2/9/08, thanks to PRPhotos.