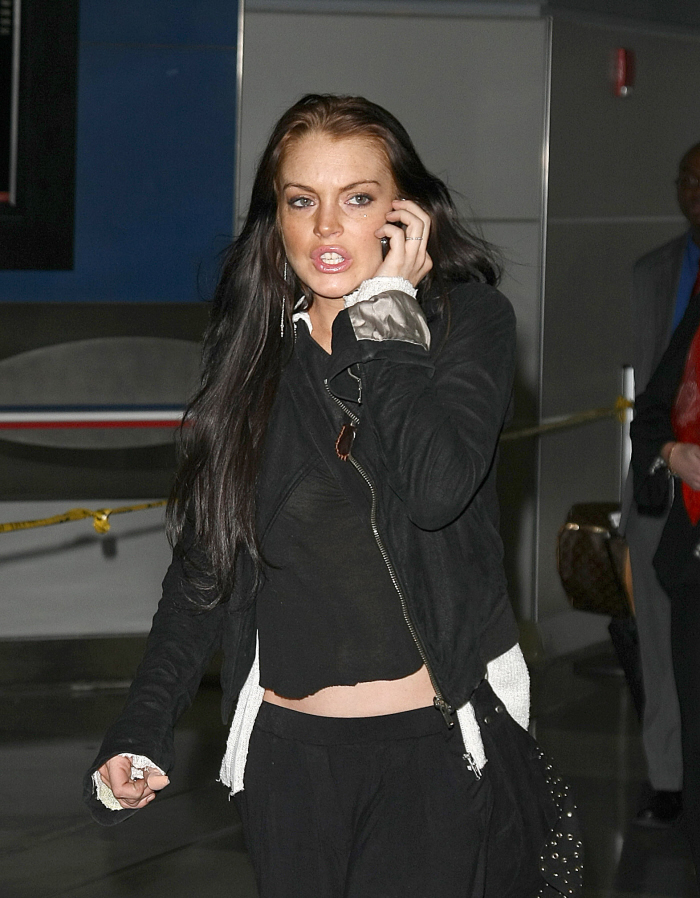 Here are some new photos of Lindsay Lohan in New York yesterday. Maybe she thinks she'll have better luck in the New York clubs than she's been having in LA? I don't know. Has anyone else noticed that Lindsay's outfits have been even more awful lately though? It's like she's been photographed in 80s-style stirrup pants for the past month. And the belly-baring shirts just look cheesy, like she cut up a cheap shirt and tried to make it look "sexy". Anyway…
The Guardian is reporting the rumor that Quentin Tarantino wants to work with Lindsay. They call her a perfect candidate, considering her acting career is in the toilet and Tarantino specializes in actors who need a second chance.
If reports are to be believed, Lohan made such an impression on the set of Machete – the film based on the fake trailer from the start of Quentin Tarantino and Robert Rodriguez's misstep Grindhouse – that Tarantino is currently cooking up a "shocking, hardcore" part for her in a forthcoming project that will instantly propel her back into the big league.

Because that's something that Quentin Tarantino is quite good at. Everybody knows what Pulp Fiction did for John Travolta, dragging him away from Kirstie Alley and the talking babies, and making him a genuine box-office proposition again. Similarly, Jackie Brown brought Pam Grier back into the spotlight, and Kill Bill made David Carradine and, to a lesser extent, Uma Thurman register on the Hollywood radar. If there's one thing that Quentin Tarantino can do better than anyone else, it's resuscitate flatlining actors.

Obviously once they've been resuscitated, they're on their own again, at which point their careers usually flounder. After receiving Tarantino's helping hand, Pam Grier made The Adventures of Pluto Nash; Uma Thurman made the now infamous Motherhood; David Carradine played a horny old triad called Poon Dong in Crank 2, then died; and John Travolta voluntarily chose to star in (deep breath) Battlefield Earth, Ladder 49, Be Cool, Wild Hogs, Hairspray and Old Dogs all in the space of a single decade. And these actors are much more celebrated than Lindsay Lohan – so even if Tarantino does decide to give her a boost, she probably shouldn't start clearing any Oscar spaces on her mantelpiece yet.
[From The Guardian]
It could be that Quentin was impressed with something regarding La Blohan, or that he thinks she would make a hilarious cameo appearance as "Crackhead #2", but I doubt he's writing a part especially for her or anything. A similar rumor was floating around about Quentin wanting to work with Britney Spears, and nothing ever came of that.
Speaking of Lindsay being rather trashy, the Jersey Shore kids were interviewed by Interview Magazine this month, and they have nothing but nice things to say about the Lohans, of course. Pauly D said, regarding his celebrity fans: "Lindsay Lohan, Ashton Kutcher. Diddy's a fan. I heard Denzel Washington's a fan. Lindsay's cool. When we went to the club, she pulled me aside and said, 'Pauly D! I love your show.' We were hanging out with her mother [Dina Lohan]." Shocking! You mean the Lohans would totally relate to the Jersey Shore kids? Honestly, between those two groups, I kind of worry about the Jersey Shore kids, and how the Lohans could be a bad influence.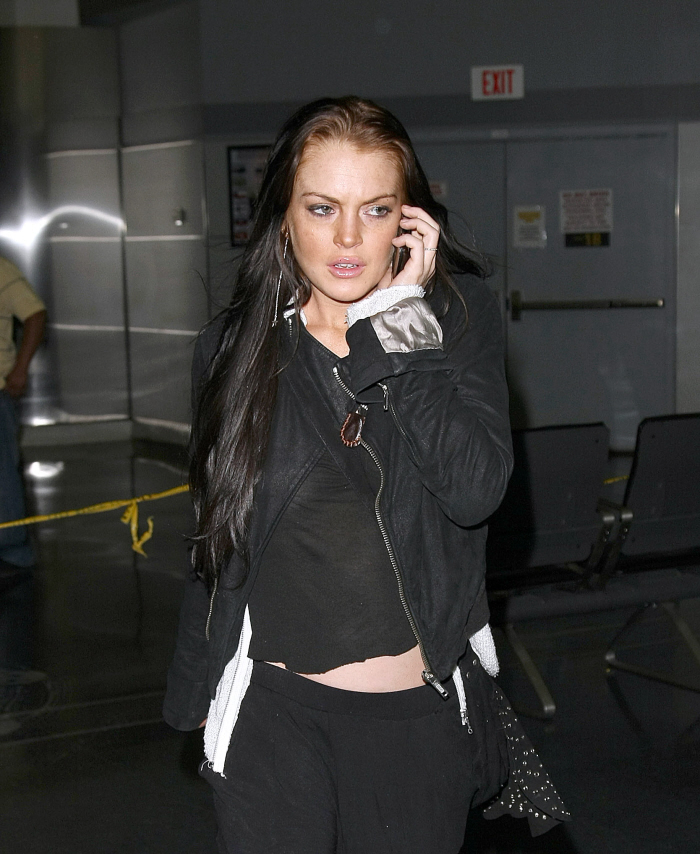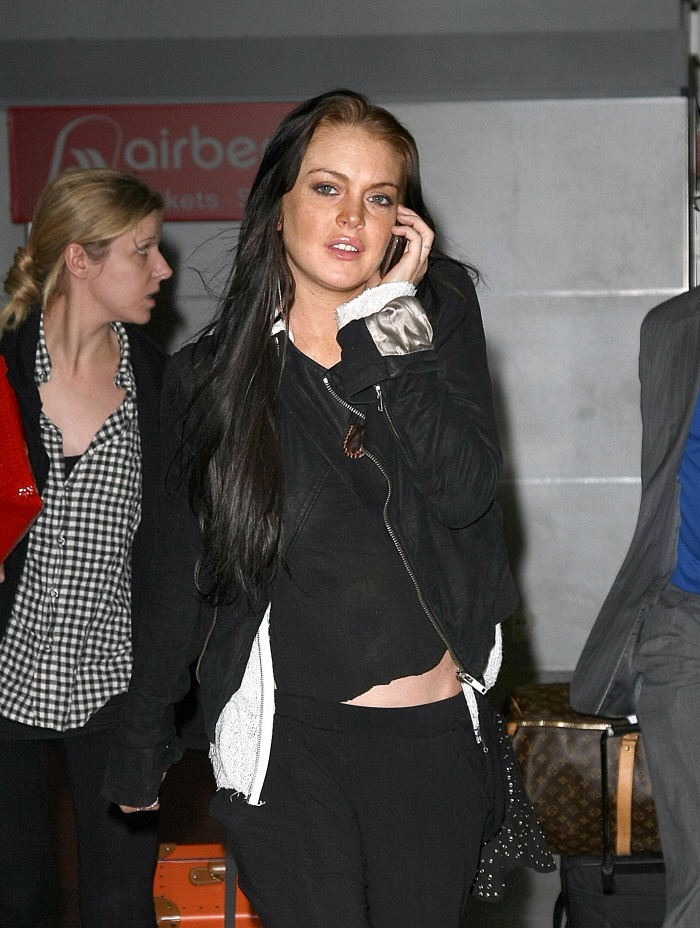 Lindsay Lohan in New York on April 12, 2010. Credit: INFphoto.com.