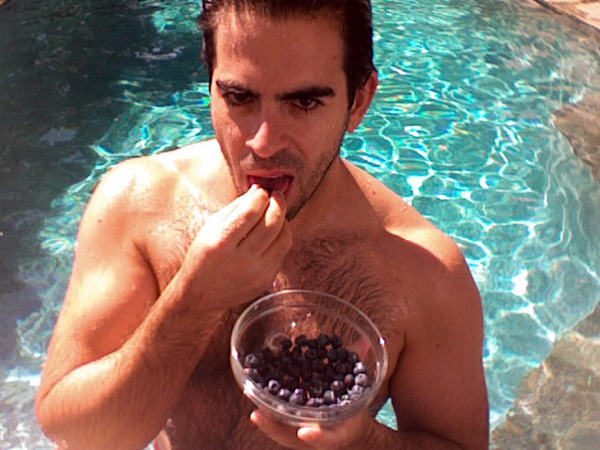 Last year, something crazy happened with Eli Roth. Something celebrities rarely get caught doing. Eli began tweeting with Christoph Waltz (who askes what all of the "Blueberry" stuff was about), and then the tweeting went to ONTD, and then some other stuff happened, and then Eli basically had cyber sex with lots of his fans. His fans began calling themselves Blueberries, and Eli totally didn't apologize for letting everything get so raunchy with his fans. For the recap, go here.
Anyway, after that little incident, Eli had a rabid fan base of Blueberries, and there was even an "awkward" meeting. I can't find out what happened, but in my mind, Eli probably wanted to have an orgy with all the pretty girls, and they wanted to talk about movies. Or source theorized, "Knowing him, the [orgy] thought probably crossed his mind several times. It was a midnight movie meeting…. but when they weren't all glamorous & model-like, he probably lost the boner."
So Eli and the Bluberries no longer got along. And they were made even more upset by the simple fact that Eli began boning Peaches Geldof, a girl so utterly unworthy of him. This is the peachy straw that broke the camel's back. The Blueberries revolted, and someone (who knows who) posted a photo of Eli's tight, waxed, hot ass on ONTD. I'm loving this:
Did he wax his ass? Someone (who shall remain nameless) thinks maybe he did, probably when he got everything else waxed (like his back). But I think I'm seeing hair. Still, it's a great ass, isn't it? And he has a sweet little mole on one cheek too. Mm… Mole Butt. Just think, Peaches Geldof gets to bone the Mole Butt. Ugh.
Photos courtesy of ONTD and Eli's Twitter.