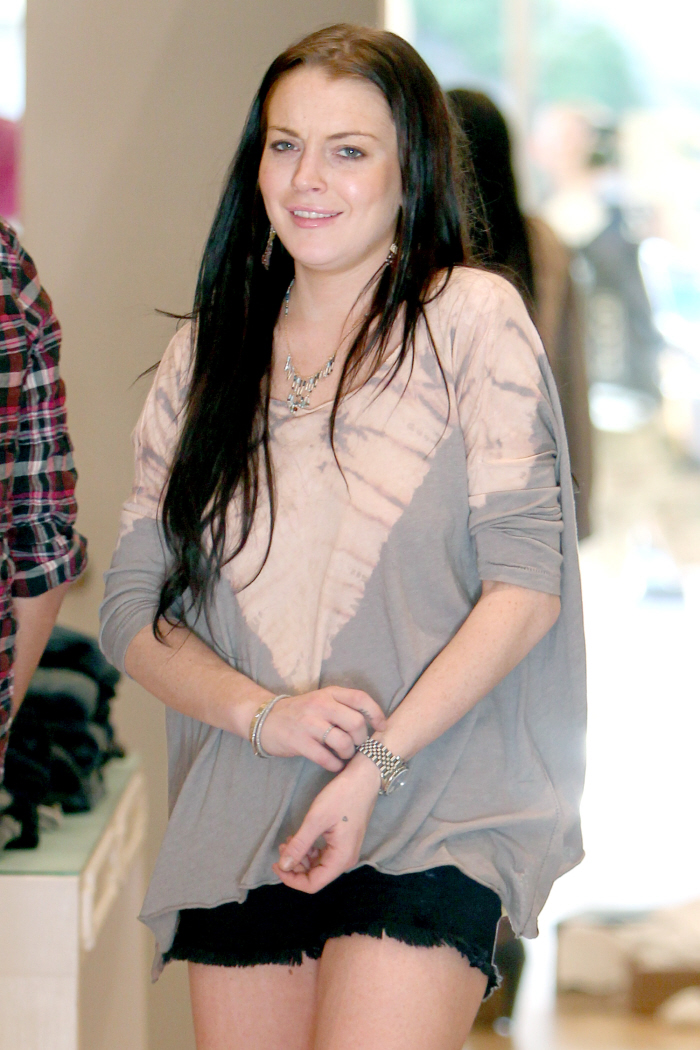 I haven't looked at photos of Lindsay Lohan in a few days, and I'm struck by how drastically different she looks from day to day. Especially in day to night situations – I'm just realizing that I've only been seen photos of Lindsay at night for the past few months. Now that I'm looking at her in daylight – she looks like a vampire, doesn't she? All pale and squinty. She's puffy too – like she's been on a month-long (years-long) bender. Anyway, these are photos of Lindsay from yesterday, as she shopped at boutique Switch, picking up some more clothes and jewelry to hoard. She looks like she doesn't have a care in the world, right? Not so much. This shopping excursion was what Lindsay did instead of appearing for a scheduled deposition in that lawsuit about her holding those dudes hostage in 2007. Bailing on your deposition to by more sh-t to be a cracked-out hoarder? Priceless:
Lindsay Lohan has bailed on a deposition in the court case in which she's being sued for allegedly holding three men hostage in an SUV. Never a good idea. The train wreck being sued over the 2007 incident -in which she allegedly hijacked an SUV – with three men and a baggie of cocaine inside. Also not good.

According to witnesses, she allegedly took the wheel and chased another car from Malibu to Santa Monica … where she was ultimately arrested for DUI.

This morning, Lindsay showed up to a lawyer's office in an SUV, as a passenger with no coke (probably) this time, but there was a scheduling conflict.

Lawyers for the three men (and the lawyer for one of the women in the car) wanted to grill Lindsay all day, but Lindsay said she only had a few hours.

What conflict could Lindsay Lohan have? She has no job whatsoever!

So, after showing up an hour and a half late, Linds bailed without even getting out of the SUV. The plaintiffs' lawyers apparently told her if she wouldn't show up for her deposition for the full day … she shouldn't bother at all.

No word on when or if the meeting was rescheduled, whether Lohan was drunk at the time (not a bad assumption by any means) or whether she will be in a 5150 hold the next time the plaintiffs attempt to depose her.
[From The Hollywood Gossip]
At this point, it might be too much to hope for Lindsay actually paying some kind of penalty for being such a spastic mess. Who goes shopping when you're supposed to be deposed? With the paparazzi taking photos of your dumb ass the whole time? It's not like you can go in and be like, "Oh, I was sick, I didn't feel well, that's why I didn't show up." No, Lindsay's excuse will be, "See, I'm a cracked-out hoarder, and I had to buy some more sh-t I won't wear, just because. And I was hungover and I'm a vampire. And a milkaholic. And a child."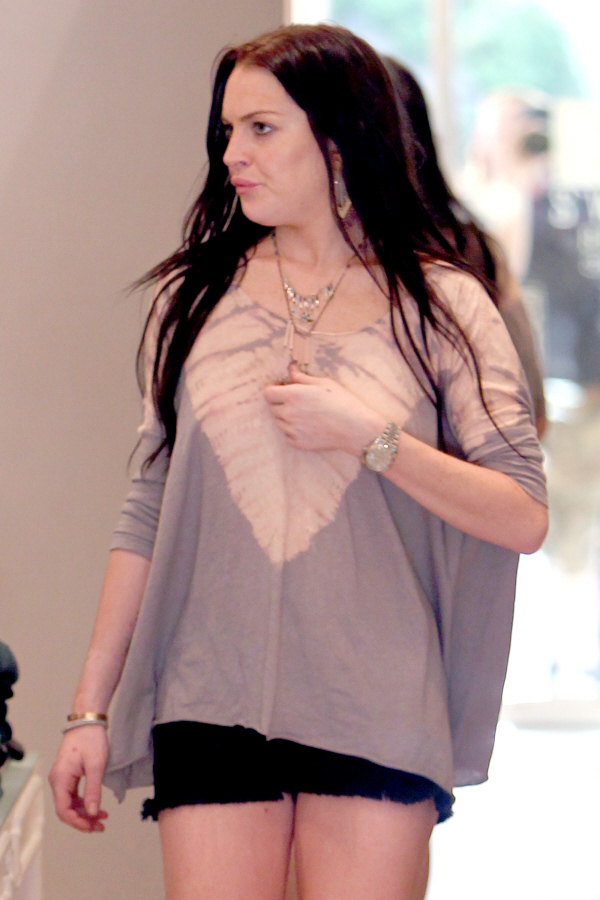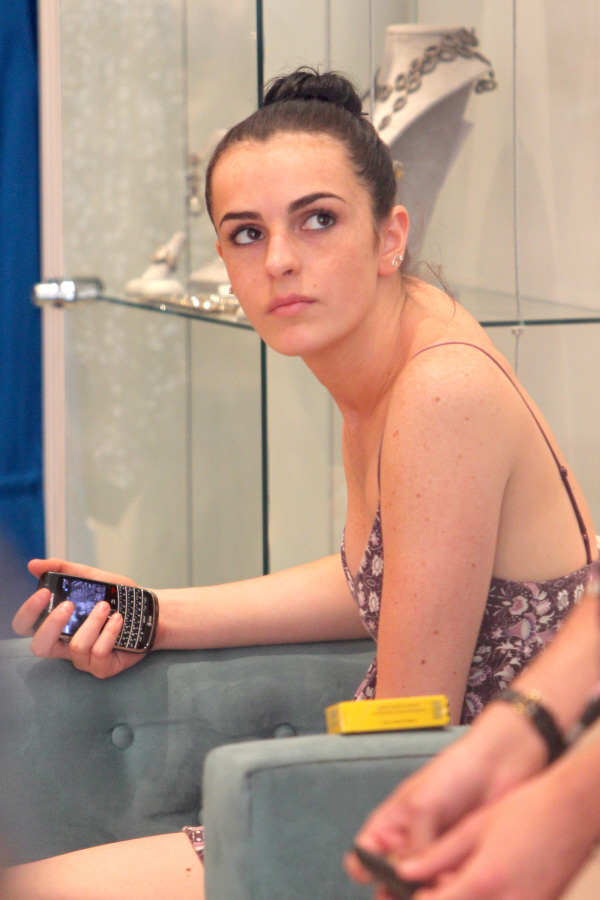 Lindsay and Ali shopping in LA on April 14, 2010. Credit: WENN.