Lindsay Lohan's cracked-out drama: hoarding & throwing drinks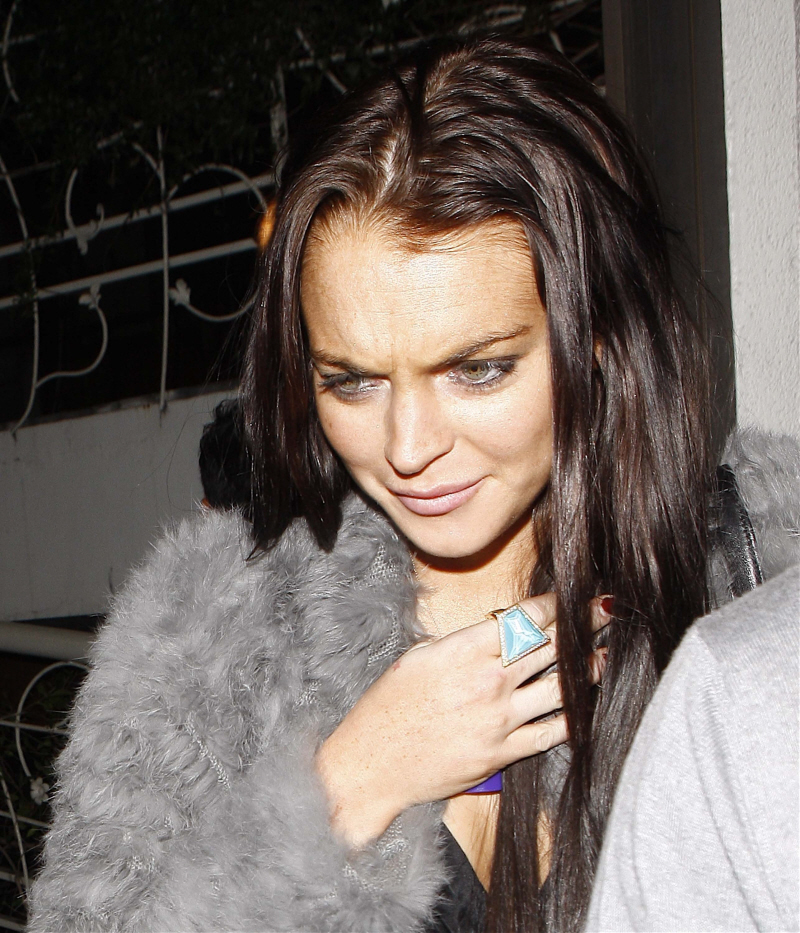 We've got lots of news about everyone's favorite crackhead! Yesterday, CB previewed Lindsay Lohan's appearance on The Insider, where she was "coming clean" about being a "secret celebrity hoarder". There was a short YouTube clip preview making the rounds, but now we have part one of Niecy Nash's exclusive with Lindsay (below). Lindsay, always the master of understated crack drama, tells Niecy "I have a lot of clothing — I think that's the biggest problem; I have a lot of stuff… It wasn't this bad for awhile, actually. I try not to come in here — that's how bad it is. I only…I need shoes. … The craziest thing is that I know every single thing that I have. It's hard because when you are traveling you pack one suitcase and you don't realize if you are getting new things or you forget what you have. So, I think that has kind of been the biggest issue." Yes, that is the biggest issue, Lindsay.
I have to say – even though Lindsay is a cracked-out hoarder, her shoe collection looks reasonably well-managed. I mean, nearly every box is labeled and there seems to be some kind of order, within the chaos. But am I the only one looks at all of that stuff, wondering how much of Lindsay jacked from other people, stores, magazine shoots, et cetera?
Speaking of drama, Radar is reporting that Lindsay and Sam Ronson got into to a huge fight at Crown Bar two nights ago. Lindsay was "drinking straight out of a bottle of vodka" and downing Adderall, trying to get Sam's attention (Sam was deejaying). Sam ignored her, then began taunting her, calling her a "disgrace". Oh, noes! CRACK DRAMA CODE RED. Lindsay then went on the attack, throwing a drink in Sam's face:
It may well be over romantically between former lovers Samantha Ronson and Lindsay Lohan — or at least for now — but that doesn't mean that emotions, and tempers, aren't still running high.

They are — so high in fact that RadarOnline.com has exclusively learned the twosome got into a bitter, heated fight Wednesday night, which culminated in Lohan throwing a drink in Ronson's face!

"Sam was working her usual weekly gig DJing at Crown bar," an eyewitness to the altercation tells RadarOnline.com. "Lindsay turned up around 11 pm and she was in the mood for trouble!

"Lindsay was drinking straight out of a bottle of vodka and I saw her take an orange prescription bottle out of her bag and pop a couple of pills that she said were Adderal, she even offered some of the pills to a friend that was with her.

"Lindsay was trying to get Sam's attention, but she was working and studiously ignored Lindsay. You could see Lindsay getting more and more worked up the more Sam didn't pay her any attention. At one point Lindsay was dirty dancing with this really pretty girl right in front of Sam, obviously to try and make her jealous.

"Sam just got sick of it all in the end though and started taunting Lindsay about her being all drunk and messed up. She said to Lindsay, "Why don't you just have another drink?" and even told her, "You're a disgrace".

"That made Lindsay just totally flip out on Sam. She picked up a drink and threw it straight in her face! Sam was absolutely furious and picked up some DJ equipment that was by her and threw that at Lindsay. It was crazy!

"Lindsay's friend grabbed her and pulled her away before things got even worse, she was losing control. It took her ages to calm down and she was going off about Sam for ages.
"Lindsay just has absolutely no self control when it comes to Sam. She obviously still has feelings for her and she's totally not over her. It's a completely toxic situation."

After the altercation it seems Ronson was still pretty worked up too. As RadarOnline.com exclusively reported Ronson turned up at another club, H.Wood, later that same night and threw a huge diva fit!

Ronson insisted on taking over the DJ booth, pushing aside the house DJ, then proceeded to just play a mix-tape instead of a live set, prompting the club's management to ask her to step-down.

Things became heated and Ronson stormed out of the club, but not before taking the audio cables with her, leaving the club unable to play anymore music for the rest of the night.
[From Radar]
Yeah, I totally believe this happened. Has anyone ever had some drama queen throw a drink in their face? I have. What's weird is that no one has ever thrown a drink in my face when I might have provoked them – the only time it's happened to me, the dude (and it was a drama queen dude – he was straight too!) just threw a drink on me because he was drunk and thought it would be funny. I kind of lost it and became a drama queen too. It was intense.
Lindsay Lohan leaving Madeo in LA on February 4, 2010. Credit: WENN.

Written by Kaiser

Posted in Disgusting, Drama, Drugs, Drunk, Lindsay Lohan, Samantha Ronson

- Friends reunion on Ellen [Popsugar]
- Lindsey Vonn watches Tigers kids [Lainey Gossip]
- George Michael fell out of a car going 70mph [D-Listed]
- Real Housewives of Orange County recap [Reality Tea]
- New Man of Steel trailer [Pajiba]
- Jared Padalecki's hot bod [Buzzfeed]
- Doctors confirm Taylor Swift's new boobs [Evil Beet]
- Catherine Zeta-Jones finished treatment [CDAN]
- Anna Paquin hates the paps [Celebslam]
- Lance Armstrong is gross [The Blemish]
- What is Barbara Palvin wearing? [Moe Jackson]
- This is Petra Nemcova? [SVC]
51 Responses to "Lindsay Lohan's cracked-out drama: hoarding & throwing drinks"