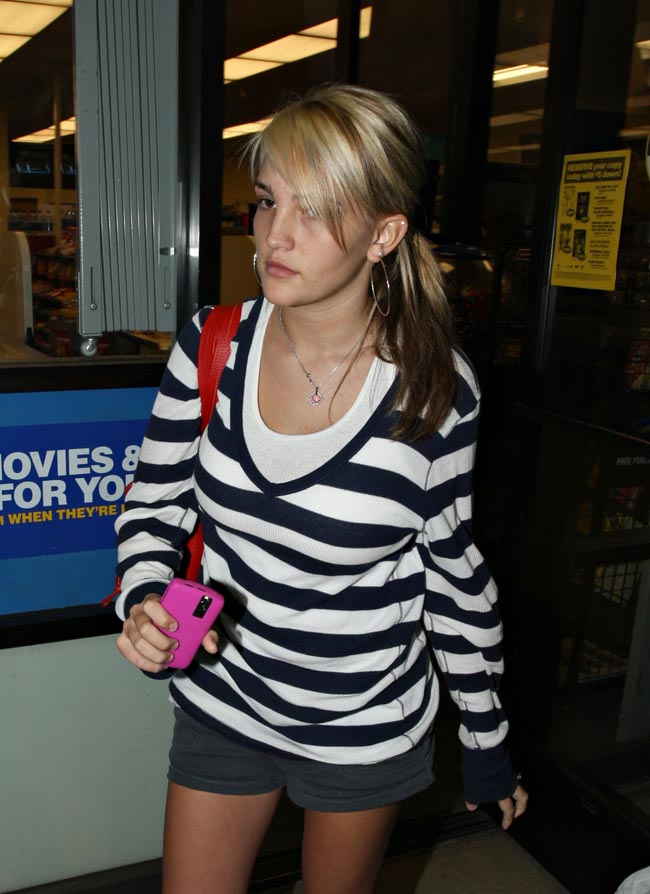 In 2008, we heard plenty of stories about how Jamie Lynn Spears' baby daddy and fiance, Casey Aldridge, was fooling around with other women behind her back. Multiple women spoke to the tabloids with stories about how Aldridge was wooing them while Spears was either pregnant with Aldridge's baby or had just given birth to their daughter Maddie, now one and a half. Then there were the inevitable stories that Jamie Lynn had kicked Casey out and called off the wedding, followed by a cover story with Casey and Jamie Lynn in OK! titled "I'm No Cheater." Both of them were just teens at the time, so it wasn't surprising that Casey was fooling around.
Casey and Jamie Lynn seemed to reunite for a while, although there were stories last summer that they were calling off their engagement and breaking up. The last time they were spotted together was in November at a Broadway show in NY. It looks like Jamie Lynn has put all the drama behind her and has moved on, though. Star Magazine reports that Jamie Lynn, 18, is dating a 28 year-old businessman from nearby Louisiana. She currently lives in Mississippi with Maddie:
A source tells Star exclusively that Jamie Lynn, 18, has moved on to 28-year-old James Watson, a well-to-do Louisiana businessman.

"They first met nearly a year ago, and their friendship turned to romance as they grew closer," said the source. "They started dating last December. I don't think James cares at all about who she is; they really seem to like each other."

James owns a company called Advanced Multimedia Partners. "He installs communication equipment and high-definition TVs for large corporations," the source tells Star. "James enjoys making money – and he enjoys spending it too. He's always throwing money around at the bars, buying drinks for everyone."

But you won't find Jamie Lynn in James' company at the local watering holes, says the source. "They try to keep their distance when they're out in public." But they're joined at the hip whenever they go to their buddies' house parties in Hammond or in her hometown of Kentwood.
[From Star Magazine, print edition, February 15, 2010]
Star goes on to say that Jamie Lynn is thinking about moving to LA to restart her acting career. She starred on Nickelodeon show Zoey 101 before her much-publicized teen pregnancy. Apart from doing the rounds to show off her cute baby, we haven't heard much from Jamie Lynn. There was news that she was planning a country music career but not much seems to have come of that. I tend to think that she's happy to live a low key life in Mississippi and isn't about to re-enter the spotlight. We'll see, though.
UPDATE BY KAISER: Us Weekly is now confirming that Jamie-Lynn and Casey have broken up. They don't have a confirmation of it from JLS's rep or anything, they're just reporting it as "confirmed".