True story: Everybody loves Ellen Degeneres. Middle America loves her, Hollywood loves her, the media loves her, and the gay community loves her too. Out Magazine has declared that Ellen Degeneres is the most powerful gay person in America. She beat out such power gays as Tim Gunn (#47, fabulous), Wanda Sykes (#36), Perez Hilton (#26), Matt Drudge (#15), Neal Patrick Harris (#7), Adam Lambert (#5), Rachel Maddow (#4), and Anderson Cooper (who has never officially come out, at #3). Here's what Out Mag had to say about her:
Since DeGeneres replaced Paula Abdul as a judge on American Idol in February, millions upon millions of viewers are getting a double dose of the hugely popular talk show host and 12-time Emmy winner. The American Express and Covergirl pitchwoman's reach is nearly unparalleled, especially after Oprah Winfrey's announcement that she will be ending her show in 2011. A passionate advocate for marriage equality, an avid opponent of "don't ask, don't tell," and staunch defender of animal rights, DeGeneres's enormous platform is many an American's gain.
[From Out Magazine]
In addition to that honor, Ellen also covers the May issue of Shape Magazine. She talks about how her wife Portia likes some curves, and what her favorite foods are. Shockingly, Shape didn't try to force Ellen into a bikini, thank God. I'm sure Ellen has a great figure, but I like it when people put their foot down and say, "You know what? No one needs to know what I look like in a bikini." Here's more: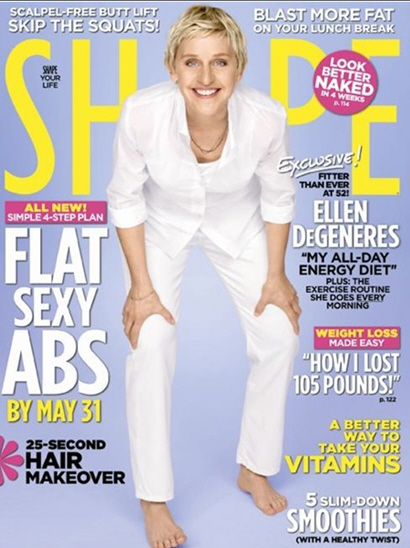 Super slim Portia de Rossi likes her wife Ellen DeGeneres to have curves.

"She loves me no matter what. Whenever I feel bad about myself, or if I'm in a period where I'm not working out, she's constantly telling me that she doesn't notice, that I look beautiful. She'll say, 'I think you could gain 10 more pounds,'" the American Idol judge, 52, tells the May issue of Shape (via Huffington Post).

Continues DeGeneres, "She would rather have me heavier than thinner, and she really hates that I ever doubt myself. She loves how I look. She wants me to be happy and never think about it."

She says she's avoided Hollywood pressure to stay thin.

"Either I wasn't that stereotypical beautiful girl or they just gave up on me," she quips. "I was just funny. That's what I was. I never thought I was supposed to dress a certain way or be a certain size. I never put that pressure on myself, and no one ever put it on me."

The Ellen DeGeneres Show host admits that she hasn't always been the healthiest eater.

"Food used to be really important to me. I loved steak, I loved hamburgers, I loved all that stuff…. Cheeseburgers, fried chicken, fried things," she says. "And then some things happened in my life, and, as a lot of young girls do, I put on weight as a barrier, as protection, to keep people away."

Afterward, "I was… always struggling, always trying to lose it," she says. "Diets don't work. It has to be a way of life."

Now she sticks to a strict meal plan: "No animals, no dairy, nothing processed; a lot of soup, veggies, rice, beans, legumes."

Explains DeGeneres of her eating habits, "I want to be on my toes; I want to have energy. And as much as the diet seems like a sacrifice, it's helping me."

She also hits the gym.

"I first started doing power yoga in L.A., which really makes no sense. Power yoga?" she jokes. "It's the opposite of what it should be. Yoga should calm you down!"
[From Us Weekly]
Ellen and Portia seem really happy together, and I really hope they're doing well. Regarding Ellen's diet – ugh. I didn't know she was one of those "no meat, no dairy" people. I'm a little disappointed with that. Well… at least she's not doing The Zone.
Shape cover courtesy of CoverAwards.