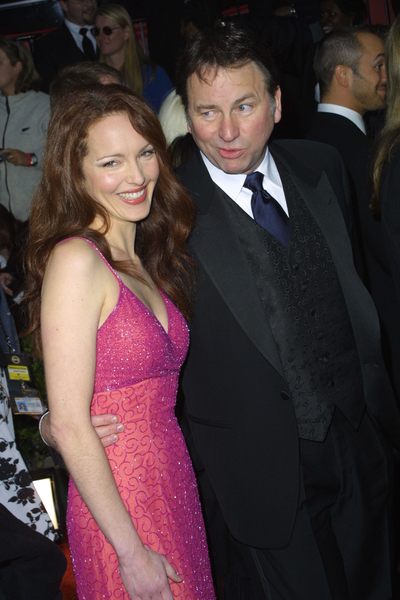 Amy Yasbeck, the wife of the late actor John Ritter, 54, gave moving testimony in court yesterday as relived her husband's last moments. Ritter passed away from a tear in his aorta on September 11th, 2003. Yasbeck – along with John's four children – is suing two of the doctors who treated Ritter for $67 million. The case has been at trial for several weeks now, during which time many of John's friends and coworkers testified about his career, which had taken a big upswing since starring in "8 Simple Rules to Date My Daughter." Everyone also noted how beloved John was not just by his family but in the entertainment industry as a whole. All of which is relevant as it goes to his earning potential, which is a key factor in deciding the amount of any possible judgment. Amy's testimony was heartbreaking, and it's clear she deeply loved and still mourns her husband.
Amy Yasbeck sometimes could barely speak through her tears as she recounted the last hours in which she was summoned to a hospital and told her husband was having a heart attack and needed an angiogram. She said that Ritter, who was in a hospital bed, was "scared" and asked Dr. Joseph Lee, one of the two defendants in the lawsuit, if he could get a second opinion before he agreed to the procedure.

"Dr. Lee said, 'No, there's no time. You're in the middle of a heart attack,'" Yasbeck testified. She said Lee asked Ritter to sign a consent form and read him its details. Asked by her lawyer, Moses Lebovits, what happened next, Yasbeck broke into gasping sobs.

"I leaned down to John's ear and said, 'I know you're scared but you have to be brave and do this because these guys know what they're doing.' And he was brave for all the time I saw him," she said.
[From the Huffington Post]
The National Enquirer has a source that says the defense is going to argue that John Ritter caused his own death by requesting the hospital, Providence Saint Joseph Medical Center in Burbank, register him under an alias. According to the source, the hospital claims that this request caused a mix-up regarding an ordered chest X-ray which Ritter never got, leading to his death. If John had gotten the X-ray, the doctors would have seen that he had an aortic dissection and treated him for that, instead of a heart attack.
[Dr. Joseph] Lee asked to see an X-ray, but was told that none had been taken, said the source. It's now believed that a chest X-ray WAS ordered, but was never carried out due to confusion centering on which name John was registered under.

By then, John's symptoms had become acute, and Dr. Lee then acted in accordance with what is 90 percent of the time the correct diagnosis – a mild heart attack – instead of an aortic condition. Defense attorneys are now saying a clerical error caused by John's use of an alias caused the request of an X-ray to fall through the cracks, the source says. That error may have prevented a proper diagnosis, defense attorneys are expected to argue.
[From the National Enquirer, print edition, March 10, 2008]
Even if that is the case, and a clerical error did cause the mix up, I'm a little unclear as to how that would absolve the hospital of any legal responsibility. If they were unable to work with an alias, shouldn't they have simply refused to let Ritter use one? I understand that could have added a layer of confusion during a frantic time, but then shouldn't the answer have been, "You should register under your own name to make things clear,"? Unless there's some legal obligation by which hospitals are required to let a patient use a different name, I can't imagine how a clerical error could have been John Ritter's fault – doesn't the fault of a clerical error lie with the clerk? And thus their employer?
John Ritter's death was so heartbreaking, and he really was still young and vital. Hopefully the case will wind up soon and his family will get some sort of closure.
Here are John and Amy and their daughter Stella along with John's three kids from his first marriage Carly, Tyler, and Jason at the "101 Dalmatians II" premiere on January 11th, 2003. Header of John and Amy at ABC Televisions 75th Anniversary Celebration on March 16th, 2003. Images thanks to PR Photos.