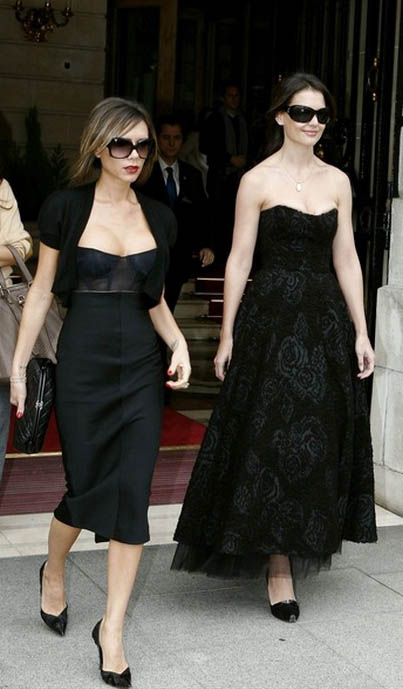 Katie Holmes and Victoria Beckham in Paris. October, 2006
It's been a while since Katie Holmes and Victoria Beckham have been seen out together spending their husbands' money on overpriced clothing they'll wear for a fraction of a day. Star offers a potential explanation for their maybe-rift in the form of "insider information" that's likely to be completely fabricated, but is too good to pass up. Katie is said to have called tattoos "trashy," and since Victoria Beckham enjoys decorating her twig-like limbs with permanent ink, she is said to have found that comment particularly insulting:
It's arctic between Katie Holmes and her fashion mentor, Victoria "Posh Spice" Beckham, and a source tells Star that it's all because of a tattoo! Thrilled with her latest tat [on the inside of her wrist] of the Latin phrase "De Integro" – it means "afresh" – Posh urged BFF Katie to get inked herself. Posh, who got this fifth one to mark her new start in the U.S., "was pretty shocked and upset" when the Mad Money actress called such body art trashy, says the source.
[From Star Magazine, print edition, March 10, 2008]
You can see Katie Holmes saying this. She dresses and acts like an old lady, it's not a stretch to claim she thinks like one too. (Although people of all ages think tattoos are trashy.)
Katie and Victoria famously attended Paris Fashion Week together in October, 2006, and spent time in Paris again in January, 2007. Apart from some get-togethers with their husbands they haven't spent a lot of time together since. The last we heard of the Cruises and Beckhams together was in early December, 2006 2007 when Tom and Katie took Suri to a Spice Girls concert. Maybe they just aren't best buddies. Or maybe Katie did insult Victoria – by copping her look and then calling her former good friend's body art "trashy."