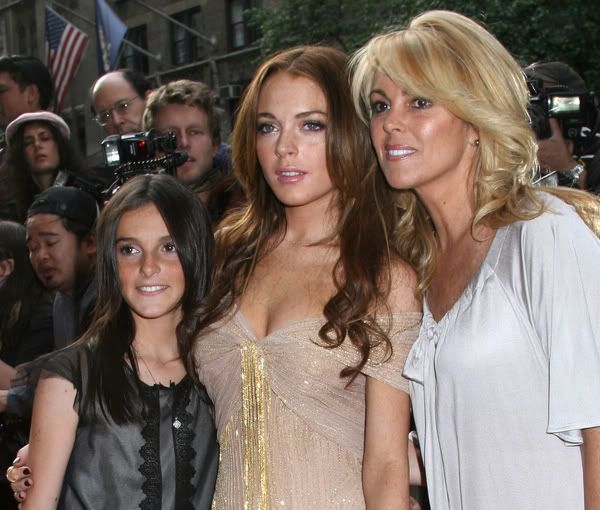 There are only two things I find more terrifying than the Lohans' grip on reality: Britney Spears' reality and Paris Hilton's reality. That's it. So the thought of such a horror coming to my television screen is truly beyond my comprehension. "Living Lohan" will grace your living rooms this summer, and give you a unique insight into the lives of mom Dina and younger sister Ali Lohan. Dina is seemingly done pimping Lindsay, and has moved on to her youngest child. Thank you, E! for inventing ever-increasing forms of torture for the American public.
"Viewers will go inside the Lohan's Long Island home for the first time to follow Dina as she works double duty as mom and manager to help Ali try to follow in her big sister [Lindsay's] famous footsteps," a press release for the show says. Cameras will also follow the duo to Vegas as Ali records an album. "Dina is determined to help each of her four kids fulfill their dreams and refuses to live in fear of what others may think, despite being under the paparazzi microscope," the press release adds.

Ali has made it clear she craves fame. "I want it so bad. So bad you don't even know. And now, it's actually happening," she told Teen Vogue this month. "I've already been asked for my autograph, and it's just a really good feeling to have."
[From Us Magazine]
It sounds like young Ali has really been raised with some great values since the only thing she ever talks about is wanting to be famous like Lindsay. Who is famous for her partying, drinking, drugging, bad attitude, poor work ethic, and bad acting. Seriously, Lohans haven't your messed up enough kids? Do you really need to teach another one about nothing but fame and show business? Though the press release claims Dina doesn't care what others may think, it's pretty clear that she does. She's always firing back at people who criticize Lindsay or Dina's parenting, instead of stopping to think, "Hey, if I'm such a crap-ass parent that even strangers can tell, maybe I should change something and not suck so much." Okay I realize the odds of that ever occurring to any bad parent are pretty slim, but the thought still makes me deliciously happy. Expect a press release detailing Ali's drug-induced downfall in the next six weeks. And a retaliation by Dina noting what an awesome mom she is.
Here are the Lohan women at the Prairie Home Companion premiere on 6/4/06 . Images thanks to PR Photos.