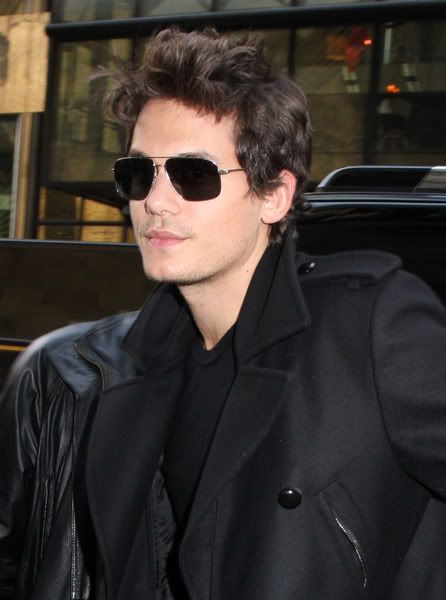 It was a bevy of Jessica Simpson lovers yesterday at Cipriani's last night as Cosmopolitan magazine "honored" John Mayer as its "Fun Fearless Male of the Year." That title always makes me giggle. Somehow the phrasing would work a lot better for women than men. While ex-Jessica Simpson lover John took home the crown (I'm 90 percent sure it's a crown instead of a trophy or plaque), he also got to mingle with current Simpson flame Tony Romo. Ironically, ex-Simpson husband Nick Lachey was the Fun Fearless Male last year. So apparently dating Jessica Simpson means you have no fear. I'm not sure how the fun plays in there.
Cosmo bestowed its Fun Fearless Male of the Year title to Simpson's ex, singer John Mayer, and some of his fellow honorees could have been straight from her little black book: Dallas Cowboys quarterback and current Simpson squeeze Tony Romo and Employee of the Month co-star Dane Cook, whom tabloids linked to her.

Last year, Simpson's ex-husband, Nick Lachey, received top honors at the same ceremony. "We know the common thread," comedian Cook said on the red carpet, acknowledging the Simpson connection. "We realize." Simpson's beaus, past and present, took it all in stride and were good-natured about the whole affair. Romo walked the carpet without his girlfriend, and in accepting his award, he said he had been asked whether he was, in fact, fun and fearless. "If you date Jessica Simpson, I guess you are," he joked.

MySpace co-founder Tom Anderson couldn't resist weighing in as he accepted his honor. "I think I might have a chance with Jessica too after today," he joked, noting Simpson had signed on to perform at Operation MySpace, a concert being held in Kuwait for U.S. troops and streaming live on My-Space starting at 2 p.m. ET/11 a.m. PT Monday.

"I haven't hooked up with Jessica Simpson, but I'm honored," said rapper/actor Common when it was his turn to accept an award.
[From USA Today]
"The Office's" John Krasinski (or as I like to call him, the future Mr. JayBird) was also a contender for the prize, and has apparently hasn't dated Jessica Simpson according to my extensive internet research. I just happened to be on one of his fan sites… never mind, moving on. The other nominees were Animal Planet's Dave Salmoni, "Brothers & Sisters'" Dave Annable and "Dirty Sexy Money's" Peter Krause.
Here are Common, Dave Salmoni, John Krasinski, Dave Annable , John Mayer, Dane Cook, Peter Krause, Tom Anderson, and Tony Romo. Images thanks to PR Photos.