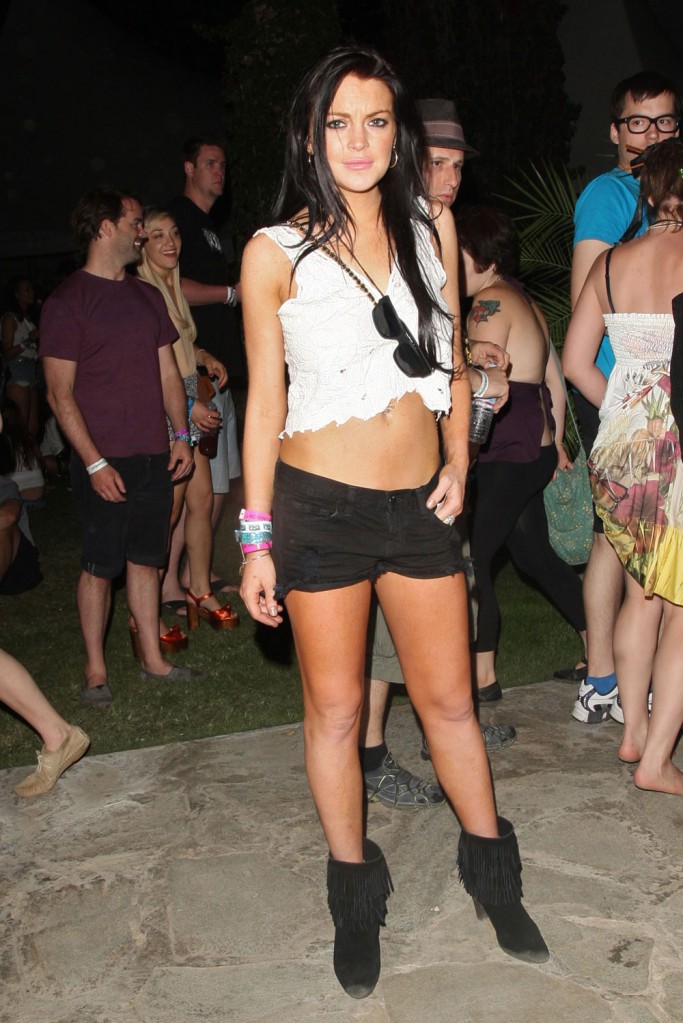 There were stories years ago that Lindsay Lohan was rapidly blowing through whatever fortune she had amassed by shopping constantly. She also used to live at the Chateau Marmont hotel and reportedly ran up a million dollars there in 2005 alone. That money could have been used for a down payment on a home, but Lindsay is still living in (very relative) squalor in a rented home, for which she's missed payments. Now Radar Online is reporting that Lindsay is sadly but unsurprisingly over 1/2 a million dollars in debt to credit card companies and owes over $600,000 on her plastic. With little career prospects and an event fee that isn't even as high as Snooki's Lindsay is going to have a lot of problems paying all that back:
Lindsay Lohan has been hitting the party scene hard and hasn't done much work since her last film Labor Pains, which went straight to DVD. Despite her lack of income, RadarOnline.com has learned exclusively that she hasn't cut back on her spending and is now over half a million dollars in debt.

"Lindsay owes credit cards $600,000," a source tells RadarOnline.com of the troubled 23-year-old. "One card cut her off last week and it's only a matter of time before all her other credit cards cut her off too."

Lohan used to make a good chunk of change by doing club appearances, but as RadarOnline.com previously reported the invites are becoming sparse and the starlet gets only from $5,000 to $10,000 at most.

Lohan's financial woes are nothing new but the severity of them is. She recently made headlines when it was reported that the actress was two months behind on her rent, prompting her landlord to threaten eviction. Lohan allegedly paid $23,000 to catch up and stay in her place.

"One credit card company is going to discuss a payment plan for Lindsay," the source continued. "But if she doesn't have the income and can't make her payments, they are prepared to sue her."
[From Radar Online]
Since I've been on vacation in the US I'm amazed at how easy it is to spend money here. I'm serious, it's a little harder to spend like that in Europe as the stores aren't open as late or on Sunday and the clothes are so much more expensive that you just don't buy as many things. (And I live in Berlin, where stores are open later and there's more variety, etc.) There's a real shopping culture in the US that I didn't fully notice until I was away for a few years. That said, Lindsay has no one to blame but herself for this financial mess! She has screwed herself out of a very promising career by acting like an entitled brat for years, and she could have cut back on her spending when she realized there wasn't as much money coming in. Now she's doing drugs and and has no income to speak of other than whatever she gets for her leggings. There are rumors that Quentin Tarantino wants to work with her, but how much do you want to bet that she'll screw that up, too? In Lindsay's world, she's still a rich movie star, she can still buy whatever she wants, and there's no one telling her "no." Pretty soon the credit card companies may be, though. The sad thing is that all that money probably went to clothes, purses and shoes and she still looks like a mess and her house is a pigsty, too!
Here's Lindsay at Coachella on 4/18 showing off some of her million dollar wardrobe. Credit: WENN.com