So I was going to write up this days-old story about how Kim Kardashian is probably boning soccer star Cristiano Ronaldo, but as I was looking through these new(er) photos of Kim Kardashian, I have to ask again: did she do something to her face? It's been looking crazy tight lately. It could just be Botox, because it doesn't look like her forehead is moving at all – but as far as I know, Botox doesn't give you cat eyes. Did Kim go under the knife after she and Reggie Bush split? I think she may have.
Anyway, Kim and Reggie are officially over and Kim is officially on the prowl again. Us Weekly reported a few days ago that Kim and Ronaldo hooked up in Spain. The hookup involved a lunch date, a public makeout session, and several hours "in private" at Ronaldo's house, after which Kim was apparently asked to leave (chuckle). That seems to be the subtext: sex, and then "So, you should get going, I have a lot to do today." Here's more:
Newly single Kim Kardashian and hunky Portuguese soccer player Cristiano Ronaldo recently hooked up in Madrid, Spain, a Kardashian pal confirms to UsMagazine.com.

On Monday, Kardashian 29, had a romantic lunch with Real Madrid star Ronaldo, 25, at eatery La Dorado. An onlooker at the restaurant observed the pair "kissing" and being "very affectionate."

Paparazzi shots show each leaving La Dorado separately. The pair then traveled in separate cars back to Ronaldo's mansion, where the reality star stayed for several hours.

A Kardashian pal explains that Kardashian and Ronaldo recently met in L.A.; when the athlete heard that Kardashian was in his home city (she watched his team play at a Saturday night game), they decided to meet up.

So far, the hot new couple are "just having fun." Kardashian is "taking her time," the pal says. "They both travel a lot, so it's easy for them to see each other." Last June, Ronaldo signed a six-year, 80-million euro ($132 million) deal with Real Madrid — reportedly making him the world's highest-paid soccer player.

Kardashian and New Orleans Saints player Reggie Bush, 25, ended their on-and-off relationship of nearly three years last month. "Sometimes loving each other isn't enough," a source explained to Us Weekly. "They wanted different things."
[From Us Weekly]
Ronaldo really is a big soccer star – he's big enough that I've heard of him. A guy like that has his pick of all of the beautiful European models, actresses, et cetera. Why go for a C-list reality star from America, and one who always photographs looking so Botoxed and farty? No, this was just a hookup. If it happened at all.
By the way, Kim also posed for Harper's Bazaar naked, and allegedly this photo has not been retouched at all (via HuffPo). I believe it for her face, but not so much for her body. Thoughts?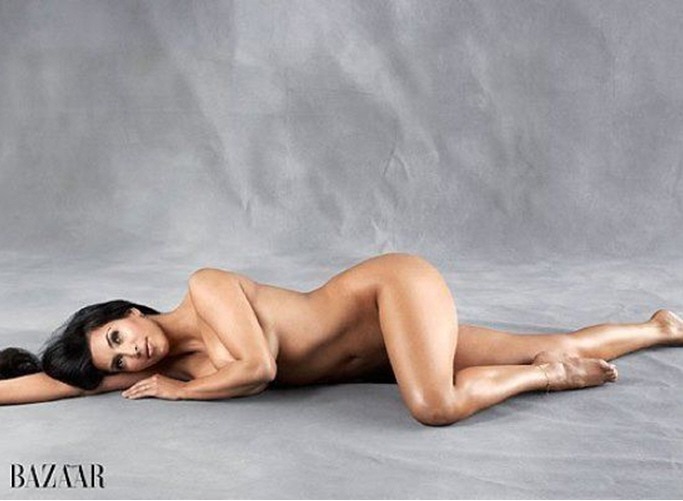 Here are some more photos of Kim looking very "tight" in the face: