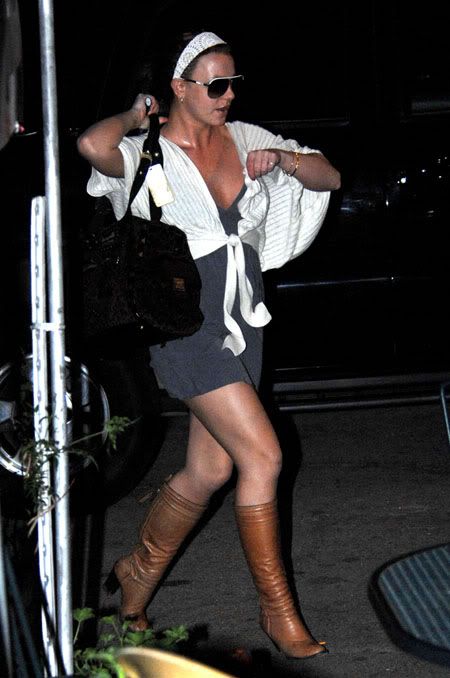 Britney's ex-"manager"/hanger on Sam Lutfi avoided being served a restraining order until the last possible moment, with a judge having to rule that it was still valid a day after the time ran out to present it to him. Now there's news that he's going to fight the order, with March 17 court date to present his twisted side of the story. The current restraining order against Lutfi lasts until March 17.
Sam supposedly said that he will call Britney to the witness stand to personally attest that she wants him back in her life and that she's sick of her father controlling her. The News of the World quotes him as saying "I am going to call Britney to the stand so she can tell the world how I was helping her. I am innocent. I am Britney's friend and would never hurt her."
One of Britney's old assistants has a different story about Lutfi. Kalie Machado worked for Britney for three months starting in December, 2006. She says that Sam contacted her and asked her a bunch of personal questions about Britney before he was able to meet her and insert himself into her life. He first arranged a meeting with Machado with the excuse that he was a private investigator and had "incriminating evidence" against the star. Instead of presenting anything to the assistant, he then asked a bunch of weird questions about Britney's schedule and how to contact her. Machado left soon afterwards, and it sounds like she got a very creepy vibe from Lutfi. She says that she saw a picture of Lutfi with Britney months later and she was amazed to see that it was the weirdo who was trying to get to Britney through her:
Kalie Machado claims that while she was Britney's assistant, she received a call from a man "at a restricted number" who said he was a private investigator working for Brit's ex husband Kevin Federline. That man was Sam. "He said he had incriminating evidence on Britney and he was going to hand it over to me," she recalls. "We arranged to meet in a Santa Monica Starbucks."

Kalie was nervous, so she brought her roommate with her. She says she spent 20 minutes listening to Sam talk and when she demanded to see the evidence, he instead "asked all kinds of stalkerish questions – like when we leave the house and where Britney and I went."

Finally, Kalie realized that Sam had nothing and left. "I got more calls from Sam after that," she remembers, "but I just ignored them."

Kalie stopped working for Britney… in February, 2007 and moved to San Francisco. Months later, she says she saw a photo on the Internet that made her stomach drop. "It was Britney, standing next to the man I met in Starbucks – Sam Lutfi. I got a chill down my spine."
[From In Touch, print edition, March 10, 2008]
Machado says she's happy to learn about the restraining order against Lutfi and that she "just want(s) to warn Britney – and other people – to make sure they stay away. Sam is a creep."
There are plenty of other people who attest to the manipulative and abusive way Lutfi treats his "friends". Before Britney, he had at least three other restraining orders against him and was accused of threatening and verbally abusing a male friend after the man started to pull away from him. Many people blame Lutfi for Britney's rapid downfall and the way that she lost custody of her boys to her ex husband.
Lutfi bragged to Britney's mother that he would mash up psychiatric drugs and mix them into her food. It's possible that much of her erratic behavior over the past few months was due to being overmedicated by Lutfi against her knowledge. She certainly has psychological problems on her own, but it's clear that she's much better off under the guardianship of her father. Let's hope Lutfi's transparent plan to gain influence over Britney again is shot down in court in two weeks.
Britney is shown at Millenium Dance Studio last night, thanks to Splash. She really is looking pregnant I'm sorry to say. I hope it's just that dress.