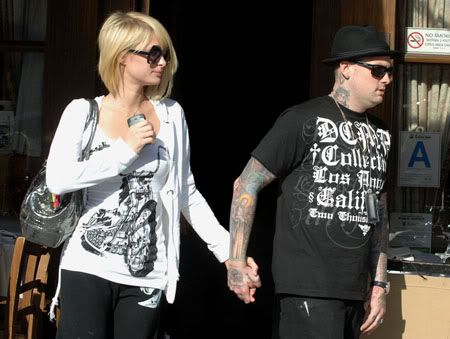 Nicole Richie praised her baby daddy's twin brother in her People interview, and revealed that Benji Madden is always willing to babysit her now seven week-old daughter, Harlow. Nicole also said that Harlow smiled for the first time at her uncle. According to ever-reliable Star Magazine, Benji is more of a nuisance than a help, and Nicole and Joel are said to have set him up with Paris in order to get him out of their house.
A source tells Star the 28-year-old Good Charlotte guitarist has holed up in his Glendale, California home, which he shares with his twin brother, Joel. Joe's fiancée, Nicole Richie, and their new baby, Harlow. As a result, he "barges in on them all the time," says the source. "Nicole insists that Joel lock their bedroom door at night because she's afraid of Benji walking in on them." The new arrangement is driving Joel and Nicole so crazy that they're trying to set Benji up, adds the source!
[From Star Magazine, print edition, March 10, 2008]
According to Nicole's People interview, Benji lives down the street, not in the same house, but he's probably over there all the time. Who knows if this is true, but considering that Benji is with Paris now someone has to have a problem with him if they didn't at least warn him against hooking up with her.
Benji's ex girlfriend Sophie Monk spoke out earlier this week about rumors that the rocker left her for the heirhead. She wished her ex well, and made it clear that their breakup was mutual:
"Benji and I did not break up badly or anything like that. We both decided, as adults, our relationship had run its course and decided to move on."

She also said: "I feel no animosity towards Benji and Paris at all and am very happy with life at the moment."
[From RTE.ie]
How embarrassing it must be to see your ex cavorting around with Paris Hilton in "notice me!" lookalike clothing. These two immediately hit all the paparazzi targets to let the world know they were together. People are speculating that he did it to make Sophie jealous after their breakup.
Meanwhile Star Magazine notes in the article we mentioned above that gorgeous Monk was seen out having brunch with a hunky video game director, James Rubin, on February 15. It looks like she's moved on to someone more her speed while Benji has been reduced to playing tag along with Paris Hilton.
Paris and Benji are shown in the header out at lunch yesterday and below out shopping on 2/25, thanks to Splash News.