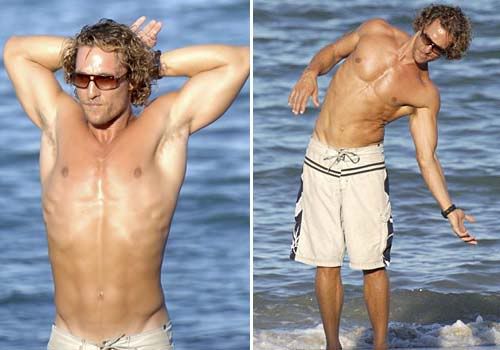 Though Matthew McConaughey is best known for shunning most forms of clothing – or at least that's what he's most photographed in – the soon-to-be dad is starting his own clothing line, j.k. livin, based on his famous life motto. It'll be mostly beachwear and other laid-back clothing styles, which generally fit with Matthew's persona. Don't expect him to go all P. Diddy couture or anything.
Us Weekly has learned exclusively that the sand-and-surf-loving star, 38, is developing his own line of swim apparel named j.k. livin, after his production company — and personal mantra — "Just keep livin'."

Available via his Web site, matthewmcconaughey.com, this summer, the must-haves will run the gamut from T-shirts to swimsuits to Frisbees.

"It will be a one-stop shop for every-thing you need for the beach," a rep for the actor, who's expecting another special delivery this summer (a baby with Brazilian model love Camila Alves, 25), tells Us.

("There's a perception of me as a beach guy," the actor — in a j.k. livin shirt — has said.)

Not bad for a man who recently dished to dished to Playboy: "My mom didn't even put a bathing suit on us at the country club until we were 9."
[From Us Weekly]
I would hazard a guess that Matthew McConaughey spends approximately 9.3x more time naked than the average American. Not that there's anything wrong with that. It's just funny that someone best known for exposing his chest and six pack is selling things that will cover them up. Hopefully Matthew won't start wearing too much clothing now, as that'd be a real shame. Matthew was recently voted as having the celebrity with the best chest, according to OK! magazine. Now if only he could somehow sell his chest online.
These pics are old, but they're a really great example of McConaughey's laid-back, beachy lifestyle. I swear that's the only reason they're here.