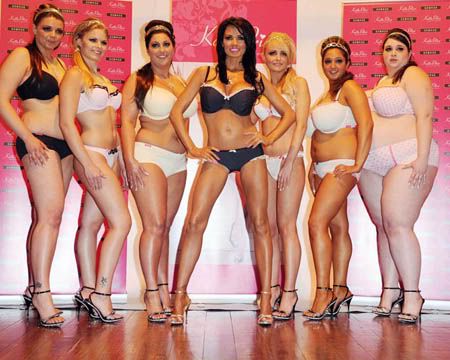 Trashtastic British reality star and entrepreneur Katie Price launched her line of women's lingerie at George at ASDA today. She used regular women to model the clothing, and chose them from among her fan club, asking women to write in for a chance:
She said: "I decided that I wanted girls from my fan club to model [the range] with me in front of the press so I got them to write in and then I chose six girls."

While the 29-year-old's cleavage appeared more than generous in her black lace trimmed bra, she recently underwent a breast reduction during a visit to LA in December.

Still, Katie, who has three children, Harvey, 5, Junior, two, and Princess Tiaamii, nine months, plans to go back for yet another cosmetic procedure on her breasts to have them made even smaller.
[From The Daily Mail]
Everyone is saying that she chose these women to make herself look better, and that could be partially the case. She also managed to get a lot more publicity by using normal-sized and plus-sized models along with showing that her bras and panties are made for all sizes. At least one commentor on Oh No They Didn't noted that it's hard to find bras if you're large-breasted. I don't have that particular problem, but it could be an issue she's trying to address by showing women who are stacked wearing her new bras.
It is refreshing to see regular-sized women promoting lingerie, even if it does seem slightly exploitive in the case of the very heavy model. Katie Price is all about exploiting herself for profit, and in her case she might call it empowering. If that word is even in her vocabulary.