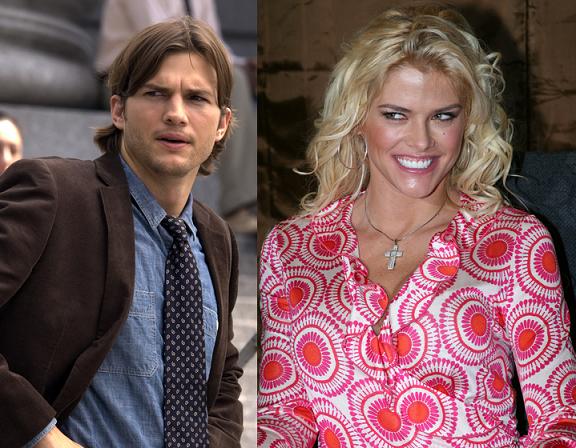 Way back in 2004, Anna Nicole Smith and Howard K Stern came up with an idea for a show called "Celebrities Strike Back." The treatment, which was submitted to E! and registered with the Writer's Guild, had Anna Nicole and other celebs turning the tables on the paparazzi with staged events to see if the media would pick up the stories. Sound a little familiar? Well it's pretty darn close to Ashton Kutcher's new show for E! called "Pop Fiction." In it, celebs… turn the tables on the paparazzi and media to see if they'll pick up the stories. Like when we all started writing about Paris Hilton wandering around L.A. with some crazed guru. Who was revealed to be an actor after a very short period of time – but we all thought the joke was on Paris, not us. Boy that sounds freakishly similar.
Ashton's show sounds like a carbon of Anna's treatment — "…what happens if Anna Nicole Smith and other celebrities turn the tables and capitalize off of the overzealous media? What if the next big supposed scandal is not a scandal at all? What if everything is staged, but the media (and the public) don't know it?" It continues, Anna Nicole and other celebrity guests take aim at the media and push all the limits."

That's Ashton Kutcher's show and we're told Howard K. has already threatened suit. What is really pissing him off is that he and Anna had multiple meetings with E!. Two months ago, Stern spoke with E! again on behalf of the estate and the network seemed intrigued by making Larry Birkhead the celeb to do the first prank and then host the show. Ultimately Jay James said it just wouldn't work. Oh really?
[From TMZ]
I never like to give Howard K Stern credit for anything if I can, but it sure seems like he could have a pretty legitimate lawsuit on his hands. This show seems pretty much up Ashton Kutcher's alley, and it's entirely possible that he or someone at his production company came up with the idea without ever knowing about Smith and Stern's show. It's also possible that E! liked the idea but didn't like Anna for the project, and once she passed away brought the idea to Kutcher. Either way, the common denominator is E! They knew about Anna's show and are airing Ashton's show. They've made a ton of money off her in the last few years, and should have been more respectful.