Christie and Alexa "after" – before photos are below and on Star's website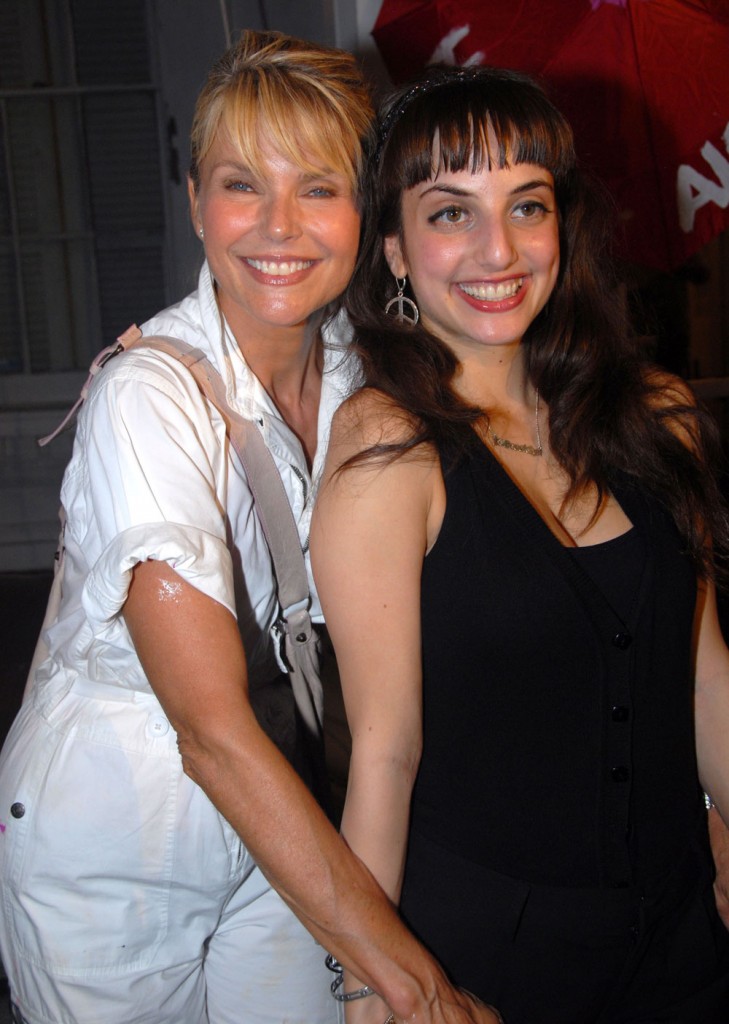 Christie and Alexa "before" – in 2008
Star Magazine has before and after photos of former supermodel Christie Brinkley and her daughter Alex Ray Joel, 24, that show that both of them had plastic surgery recently. Alexa seems to have had a nose job, according to the photo evidence and an expert quoted by Star. Christie, 56, has opted for some kind of face lift. I think both Christie and Alexa looked better before, although it's kind of a toss up with Alexa as she's still gorgeous with an obviously tapered nose. Christie is looking too tightly pulled and she's starting to get that chipmunk cheek artificial look that's a dead giveaway for too much work. She should have left well enough alone and is going to have to watch it. Here's Star's teaser report on this story. They also have a better before and after picture than the one we cobbled together.
Some mothers and daughters bond over shopping. For Christie Brinkley and Alexa Ray Joel, it's plastic surgery! In the May 10 issue of Star, we exclusively reveal that the supermodel and her singer daughter, whose dad is Billy Joel, both went under the knife earlier this month — one day apart — at Manhattan's Lenox Hill Hospital.

What was on the makeover menu? A mini face-lift for Christie and a nose job for Alexa, which — according to NYC-based plastic surgeon Dr. Norman M. Rowe — set them back about $60,000!

It was money well spent, a source tells Star. "Both Alexa and Christie are so happy."

And just weeks after their respective surgeries, Christie and Alexa showed off their new looks when they attended the premiere of Last Play at Shea — to support Billy — at the Tribeca Film Festival in NYC on Sunday.

Pick up the new Star today for the full story about Christie and Alexa Ray's mother/daughter plastic surgeries. Plus: Read our six-page spread — Nips, Tucks & Lies — about plastic surgery in Hollywood with before and after pix of celebs like Christina Aguilera, Gwen Stefani and Blake Lively.
[From Star Magazine's website]
I personally don't think it's so strange that a mom and daughter had plastic surgery just a day apart. My mom had a face lift and I could see getting some work done with her. (I haven't had anything done yet, but am not ruling it out and will probably try Botox soon.) I know that will sound insane to many of you, and it's probably just a sign of the times. On one hand I'm wary of looking freaky like this but on the other side I have to admit I'm considering a face lift when the time comes.
People are getting plastic surgery with mixed results. You really have to opt for minor procedures and make sure you don't go overboard, because it's easy to ruin your looks and end up much worse than you were before. Even with just one or two seemingly small surgeries some people end up unrecognizable. Just look at Jennifer Grey.
Does anyone like Christie's new look better than her old one? There's something not-quite-human about her new look and she's starting to resemble a plastic doll. Maybe it will settle for her.
Update: Alexa admits to People that she had her nose done, and says that she's wanted it done for a long time. I like how candid she is and how she sounds confident about it.
Alexa Ray tells PEOPLE she's feeling much better–inside and out. The 24-year-old singer underwent rhinoplasty earlier this month, and says she's overjoyed by the results. "I was thinking about getting this for years," says Joel. Her nose, she adds, "always bothered me a little bit. I was self-conscious of pictures taken from the side. To some people that's vain, but at the end of the day, we all want to feel pretty." But the daughter of Billy Joel and Christie Brinkley says she's done with plastic surgery. Says Joel, "Would I do anything else to my body? No. It's not ten procedures like Heidi Montag. For me, that's a little extreme, but to each her own." As for the timing of the surgery–just four months after her overdose scare following a breakup–Joel says this was the right time for her. "Would it have been smart to get this procedure last year?" she asks. "No. I didn't know who I was." And now? "I feel really good."
[From People]
Alexa Before:

Alexa After:

Christie Before:

Christie After: