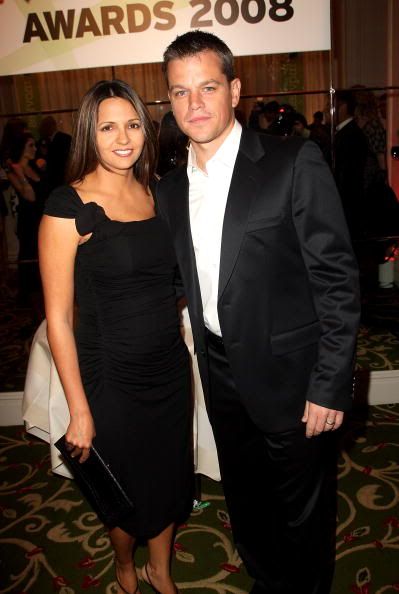 Matt Damon, 37, and his wife of two years, Luciana Barroso, 32, are expecting their second child together. They have a 20 month-old daughter, Isabella, and Matt is the stepfather of Luciana's 9 year-old daughter, Alexia, from her first marriage. Damon and Luciana were seen out at the Empire Film Awards in London last night, where Bourne Ultimatum won best film. It was obvious that Luciana was pregnant.
People Magazine has a statement from Damon's rep, who confirms the news, saying "They couldn't be happier, They're so excited!"
Last year there was a story at the end of August that Luciana was three months' pregnant, but that would make her nearly due at this point, and she doesn't look that far along in these pictures from Sunday.
Congratulations to Matt and Luciana! According to People, Matt is now shooting the thriller The Green Zone in Morocco. He has two other films scheduled for release next year, The Informant, another thriller, and The Human Factor, which is based on Nelson Mandela's first term as South African President. Morgan Freeman will play Mandela.