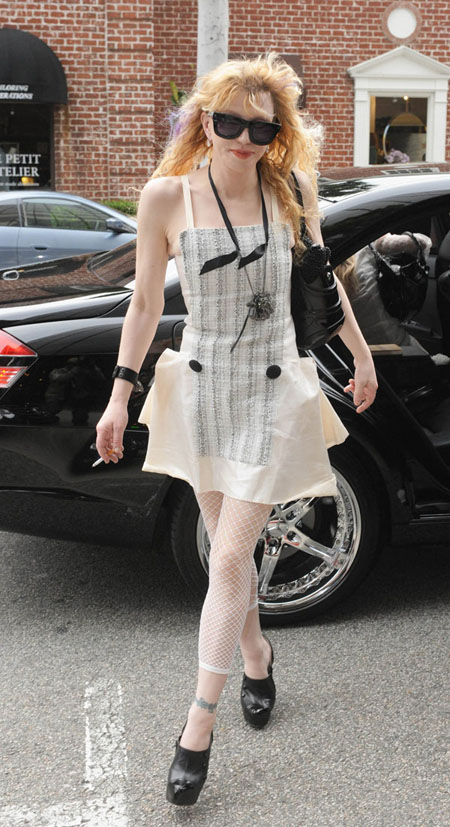 Kurt Cobain is alive and well, according to the United States social security system.
It seems that someone has stolen the long dead musician's social security number five years ago, and taken out 188 credit cards, purchased a house and several cars using his identity. And not just a little bit of money was taken, it was around $72 million, according to Courtney Love. Why didn't Courtney realize that the money had been taken?
This week Courtney, 43, met cops in Van Nuys, LA, to give them details of a probe by forensic accountants Kroll which discovered £36 million missing. Cheques had been stolen and cars bought by villains.

She told The Sun: "I knew it had been going on since when I went cuckoo — bananas — in 2003.

"It was fraud after fraud. But nobody believed me until now. I did a check on my deceased husband's social security number and he has a house in New Brunswick, New Jersey. He bought it last year."
Courtney has now gone to the police to try and get some of the money back, most of which was going into trust for the couple's daughter Frances Bean. The Nirvana estate makes around £21 million a year, according to The Sun. I'm absolutely horrified that his social security number could be used like this, considering the high profile nature of his death and widow. I'm unfamiliar with the legal system in the United States, but I'm guessing Courtney will at least be able to claim the property from the 'owners'.
And what if Kurt Cobain did indeed fake his death and has purchased a new home as some Nirvana fans would love to believe? Courtney says "He should probably get his ass back home."
Pictures via D-Listed.