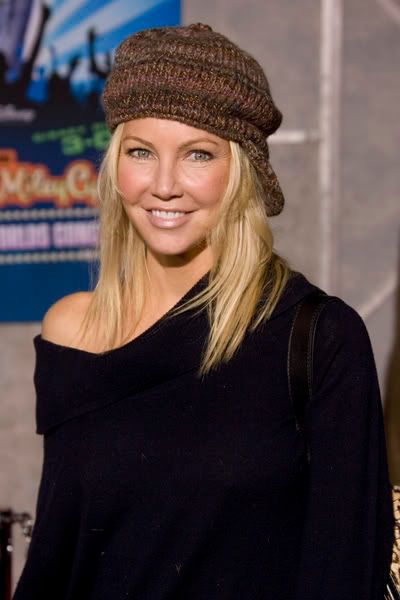 On Saturday night, the Ventura County Fire Department received a 911 call claiming that someone at Heather Locklear's residence was in danger of attempting suicide. When the fire department arrived at the actress' house, they found nothing out of the ordinary.
TMZ has learned the Ventura County Fire Department and two paramedics units were sent to the home of Heather Locklear yesterday after getting a "suicide attempt" call. Sources say the person they responded to was Heather Locklear — however paramedics quickly determined there was no suicide attempt.

Capt. Barry Parker of the Ventura County Fire Department tells TMZ they received a 911 call last night and went to Locklear's home in Thousand Oaks, but the call did not originate from her home. An engine, a squad and two ambulances were dispatched. When they arrived, they spoke to Heather and found "no problem."

A Fire Department source added, "If there was a problem, we would have taken her with us."

Sources tell us when responders arrived, Heather was fine, completely responsive, and they left after about ten minutes. These sources say Heather was never in any danger and there was absolutely no need to take her in on a 5150 hold.

As we first reported, the person who called 911 was not at Heather's home.
I'm glad to hear that Heather was fine. Why the heck would she want to kill herself? She's Heather friggin' Locklear. She's still hot, she's got a gorgeous kid, and she's dating Jack Wagner. This is complete speculation, but I smell a rat…. a rat named Denise Richards!
Picture note by Celebitchy: Heather Locklear and her daughter, Ava Elizabeth, 10, are shown on 1/17/08 at the "Hannah Montana/Miley Cyrus: Best of Both Worlds Concert Tour" film premiere, thanks to PRPhotos.
Update by Celebitchy: TMZ reports that Heather's psychiatrist the the one who called 911 after speaking to her on the phone, and was worried that she might overdose on prescription medication.
Her rep said earlier that she is "fine" and that "she never requested medical assistance and did not place a 911 call. Nor did anyone from her house call 911 or place a call requesting medical assistance."