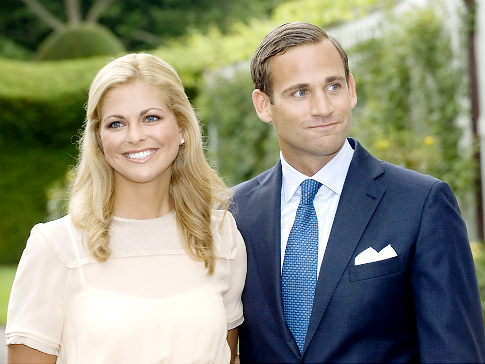 Princess Madeline and her cheating fiance
I haven't heard much about this scandal among the Swedish royals, and in fact I didn't even know there were Swedish royals until this scandal came out, but it's still an interesting story. Apparently lovely Swedish Princess Madeline, 27, was publicly humiliated when it came out that her fiance, lawyer Jonas Bergstrom, had hooked up with some random 21 year-old coed who sold her story to the press. The other woman looks like a budget snaggle tooth version of the Princess with bad skin. I know that's unkind but it's true – just compare their pictures. It happened six months before Madeline and Jonas announced their engagement and the girl just got around to cashing it on it now, but they were together at the time and it was a huge embarassment. As a result, Princess Madeline called off her engagement and has since retreated to New York:
A shattered Swedish princess has caused a royal ruckus by bolting for New York – minus her engagement ring – after a bitter breakup with her cheating fiancé.

Brokenhearted Princess Madeleine left Stockholm and skirt-chasing lawyer Jonas Bergstrom after word of his one-night stand at a Swedish ski resort became public.

The 27-year-old blond princess touched down Saturday at Newark Airport, dodging a crowd of paparazzi before zipping into Manhattan.

Her official calendar says the princess has turned to charity work – toiling 40 hours a week at the World Childhood Foundation. The nonprofit organization was founded 11 years ago by Madeleine's mother, Queen Silvia.

But there was no sign of the princess Wednesday at the charity's midtown headquarters – as well as no extra security and no throngs of photographers.

A foundation spokeswoman declined to comment on Princess Madeleine, who is keeping an ultra-low profile.

The Swedish media have agreed to a request from the royal family to give the princess some "peace and quiet" after the sudden and scandalous separation.

Her split was announced in a dry statement over the weekend that ignored Bergstrom's reported dalliance with a 21-year-old ski bunny at a Swedish resort.

But the Nordic naughtiness is captivating Europe.

"This Is Why Their Love Died," read the headline in one Swedish newspaper detailing the hookup between Bergstrom, 31, and the much younger woman.

Tora Uppstrom Berg, an athletic blond college student, told a Norwegian magazine that Bergstrom followed her home last year in a taxi and bedded her without ever mentioning his royal girlfriend.

Berg discovered the Swedish meatball's ties to the throne only after a postfling call to his cell phone tripped to voice mail.

"Had I known he had a girlfriend, I never would have done anything," Berg said.

Princess Madeleine's drama also threatens to overshadow her sister's upcoming royal wedding. Princess Victoria is set for a June marriage to her fiancé, gym owner Daniel Westing – a $13 million extravaganza that will be Sweden's first royal wedding since 1976.

The family was already rocked when her brother – Prince Carl – ditched his longtime girlfriend recently for a topless model.

Bergstrom, who met the princess when she was still a teen, became engaged to Madeleine last August. She is third in line to the Swedish throne, behind elder siblings Princess Victoria and Prince Carl.
[From The NY Daily News]
Kaiser schooled me that it's a big deal in Sweden that Madeline's sister, Princess Victoria, is engaged to a guy who owns a gym. Victoria is next in line for the throne and will succeed her father, Prince Carl. Potentially this gym owner guy could be either the King or the Royal Consort, depending on how Sweden does it. (Here are photos of Victoria and her fiance.) Victoria is getting married in June, so it's a good thing that this cheating scandal came out now rather than in a few more weeks when it could potentially overshadow the big royal wedding. Oh well. At least Madeline found out her fiance was a cheater now and didn't have to wait until after she married him. She really dodged a bullet with that one.