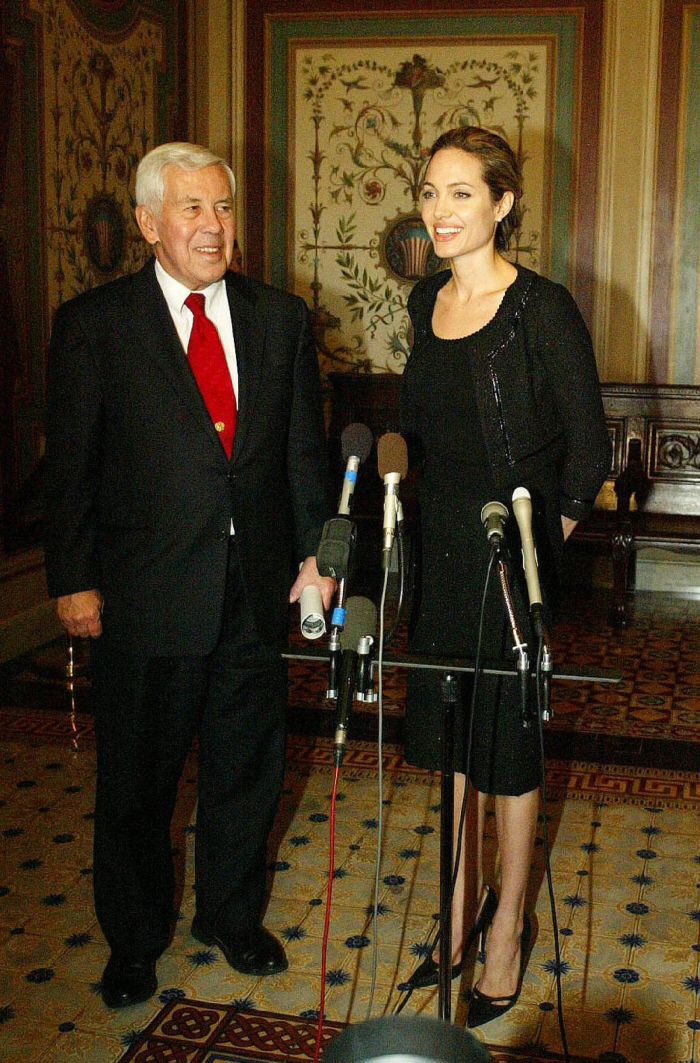 This is the strangest story. According to PopEater's gossip guy, Angelina Jolie was invited to this weekend's Correspondents' dinner in Washington, but she refused to come. That in an of itself isn't strange – after all, Angelina is still filming in Venice, and who really wants to leave Brad Pitt, your kids and Johnny Depp to sit in a crowded Washington ballroom and listen to Justin Bieber jokes? No, what's strange is that PopEater claims Angelina has been invited to the annual dinner many times, and she always refuses because "she would rather spend her time helping those who really need it rather than sitting, drinking champagne and laughing at bad jokes in a fancy DC ballroom." Eh… I mean, sure. I guess I believe that could be her thought process. Here's more:
While it seemed that most of Hollywood and Washington mingled together this weekend at the White House Correspondents Dinner headlined by President Obama, sources tell me that the world's biggest movie starlet, Angelina Jolie, once again passed on attending.

"Angelina is always invited by several media outlets to sit at their table, but she always refuses," a friend of the actress told me. "Angie is filming in Europe at the moment, but that isn't the reason she didn't attend. She didn't go because on her weekends off she would rather spend her time helping those who really need it rather than sitting, drinking champagne and laughing at bad jokes in a fancy DC ballroom."

Jolie, who is a United Nations High Commissioner for Refugees (UNHCR) ambassador, recently traveled to Bosnia with partner Brad Pitt to meet with those displaced by the Bosnian war that ended 15 years ago.

"Angie doesn't judge other celebrities for wanting to rub shoulders with President Obama," who she slammed in an open letter for Newsweek.com. "It's just she is just someone who thinks your actions are more important than words," reports a close friend.

Point taken, Angelina. But aren't we all allowed one night off to laugh?
[From PopEater]
So…yes, I could see how Angelina would get on her high horse and be like "I'm not going to go to a social occasion with these people, I would rather be in a refugee camp." But these are people who actually do the voting and the allocating and the signing for a lot of junk Angelina really cares about. She's done the Washington glad-handing tour before, always for refugees or some kind of international children's issue. So why would she refuse the Correspondents' dinner invite? It would be a great opportunity for her to talk to senators and representatives who need a better a better education on the issues she cares about.
The other theory I have about this – if it's true – is that Angelina has never endorsed any candidate for office, and maybe she thinks that she'll be seen as a Hollywood party hack if she goes? That could be it.
By the way, these are photos of Angelina filming in Venice over the weekend. The dude who is staring at her with so much affection (love? desire? attraction?) is her director, Florian Henckel von Donnersmarck. Awesome 'fro, Florian.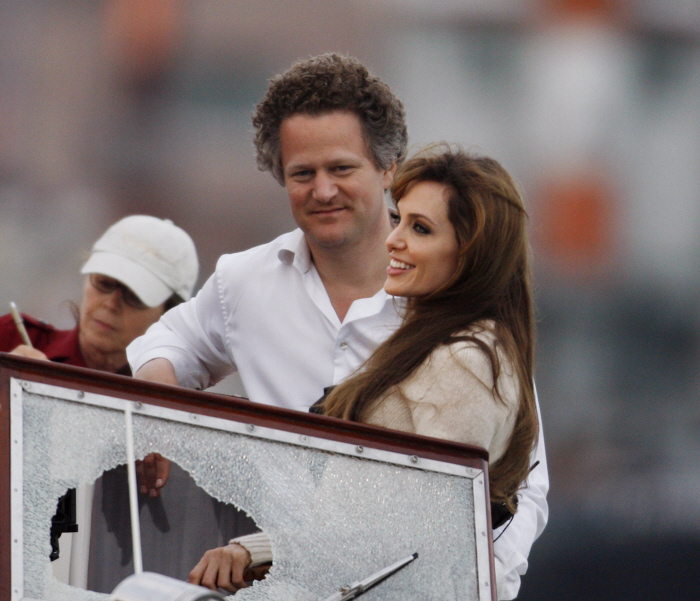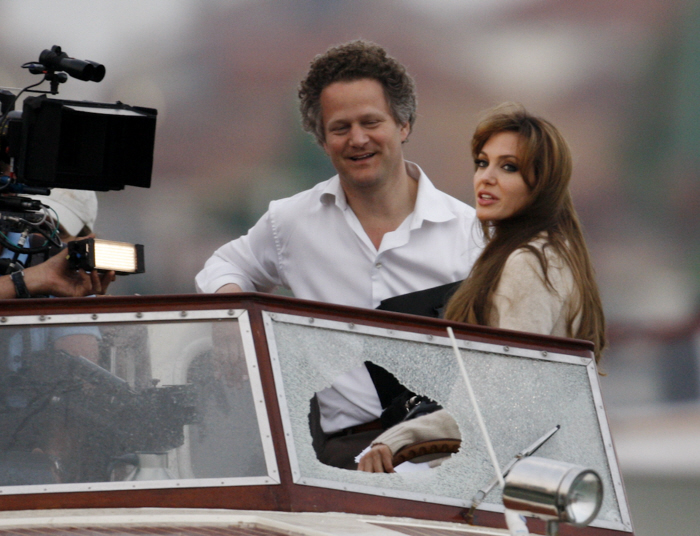 Angelina and Florian in Venice on May 1, 2010. Also, some older photos of Angelina in Washington in November 2005, with Senator Richard Luger (R- Indiana). Credit: WENN.