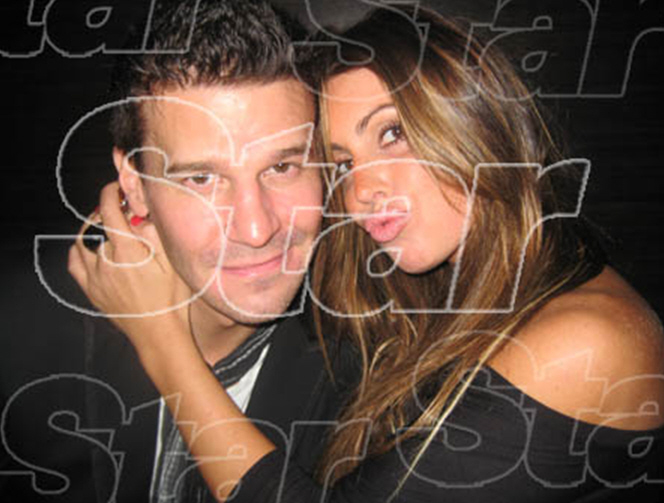 This David Boreanaz story just keeps getting grosser and weirder. To catch up on everything that's happened thus far, just check out yesterday's post. Since announcing that he's a gross, dirty cheater on Monday evening, everyone has been playing a weird combination of catch-up and "Guess the hooker". I felt pretty certain that the mistress who was attempting to blackmail/extort money out of David was Rachel Uchitel, just because that's the only woman that he's reportedly had an affair with. Although… in his statement, David did say, "Our marriage has been tainted with my infidelities." Infidelities, plural. So there could be more than one hooker.
And now it appears there is. Radar is reporting that this mistress girl who was allegedly trying to extort money from David is going to make a public statement sometime soon. So claims this woman's lawyer, Gloria Allred, who also represents Rachel Uchitel. Allred also confirms to Radar that the woman in question is definitely not Uchitel. Hm…
The woman who had an affair with Bones star David Boreanaz is going to tell her story publicly RadarOnline.com has learned exclusively.

Gloria Allred, the woman's attorney, told RadarOnline.com "Now that Mr. Boreanaz is attacking her she has decided to tell the story of their relationship, so that the truth will come out."

This is a departure from a statement Monday night when Allred said that because Boreanaz was attacking the woman, "I do expect that she will want to tell the story of their relationship" but stopped short of saying that the woman would definitely come forward.

But Allred confirmed to RadarOnlne.com on Tuesday that the woman has now decided she will now go public and tell the story of her affair.

"She is not going to be intimidated," Allred told RadarOnline.com.

The Boreanaz affair has become one of the most contentious public battles in recent memory, with Allred representing the unnamed lawyer and L.A. heavyweight lawyer Marty Singer repping Boreanaz.

Boreanaz announced Monday that he had an affair, saying he was doing it because the woman was demanding money. The words "extortion" has been used repeatedly by Boreanaz team in connection to this situation. And Boreanaz did, in fact, pay the woman twice but balked when she demanded six figures and hired Allred.

Singer is outraged at what he perceives as the growing trend of extortion of public figures by people who threaten to expose their affairs. Allred said she was retained after Singer attempted to contact Boreanaz's mistress.

"Marty Singer attempted to contact a woman who had a romantic relationship with David Boreanaz. She then retained me. (This woman was not Rachel Uchitel.) I then contacted Mr. Singer on her behalf to find out why Mr. Singer was calling her. We discussed the possible resolution of my client's legal claims against Mr. Boreanaz by mediation. My client has not told her story to the press, but now that Mr. Boreanaz is attacking her she has decided to tell the story of their relationship, so that the truth will come out. This baseless attack by David Boreanaz and his highly paid legal mouth piece in an apparent effort to divert attention from his client's extramarital infidelity will not succeed. If they think that I or my client will be intimidated they are wrong."

Allred told RadarOnline.com that the woman has not decided how or where she will tell her story. She also said that in response to reports Rachel Uchitel is going to have a press conference denying she attempted to extort Boreanaz, "Rachel has no press conference scheduled with me. I have no plans for that."

As RadarOnline.com revealed, Uchitel had an affair with Boreanaz before she had an affair with Tiger Woods. Her affair with Boreanaz was first exposed by Star magazine.

"Rachel has not asserted any claim against David Boreanaz in the past," Allred told RadarOnline.com. "I have no comment on their relationship."

And when asked about Rachel's multi-million dollar payoff from Tiger Woods, a fact first reported by RadarOnine.com, Allred said: "Rachel has no comment on Tiger Woods."
[From Radar]
Here's what I think happened: David was screwing around on his wife with multiple women, at various times. I think one of those women was Rachel Uchitel, and I think Uchitel probably left David when she hooked up with a bigger fish, Tiger Woods. I think that either David continued to screw around his wife after Uchitel (perhaps late 2009), or he had a mistress before Uchitel (which would be roughly mid to late 2008). I think that this second mistress is the one asking for money – allegedly.
Let's call the second mistress Hooker McWhorepants. I think McWhorepants began asking for money when she realized that being a mistress could conceivably pay well, especially after seeing what happened with Tiger Woods' girls. I would also buy that McWhorepants didn't realize that she was, in effect, extorting money from David – after all, the line does get blurred somewhere between "I love you, you should tell your wife" and "Can you put a down payment on a condo so we'll have somewhere nice to do it?" And when she tried to get more money, and David got his lawyers and his representatives involved, McWhorepants got scared and went running to The Savior of the Hookers, Gloria Allred. And I think Allred is now trying to secure McWhorepants with a nice settlement by continuing to threaten that McWhorepants will "tell all" about the affair.
Even though I think David is totally douchey for the affairs and the mistresses, I have to say that in his situation, he's going at it the right way. From a PR perspective, he's smart. He told the story of his affair(s) on his terms, to People Magazine, and he managed to divert enough attention to the possible criminal actions of his mistress so that he didn't take the full hit for being a douchey cheater.
You know what else I thought, jokingly, when I was reading this? "I wonder if the mistress is Emily Deschanel." Seriously, now that I know David bones (get it?) women other than his wife, I totally think he and Emily are hittin' it.