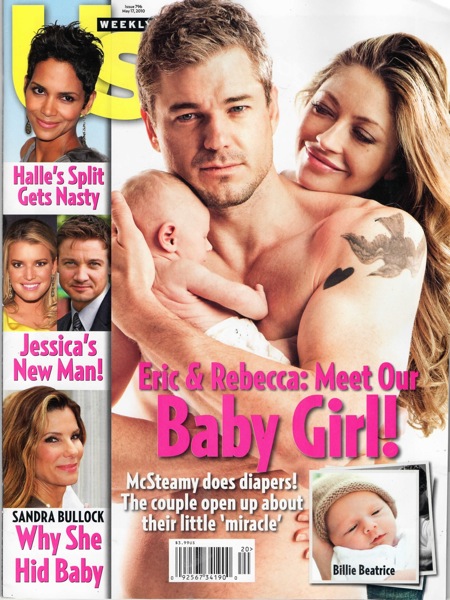 Okay, CB and I cannot stop laughing. This is, like, the BEST BABY COVER EVER. Best reveal of a celebrity baby, period, full stop. CB asks "Who thought this was a good idea?" I mean, Eric Dane, shirtless. Holding his baby. With Rebecca Gayheart's head popping out from behind, like it's so obvious that Us Weekly's readership don't give a sh-t about her. Eric showed up at the photo shoot and was like "Let me take off my shirt, my pants and hold this baby." And Rebecca was like "WTF?" CB also thinks they 'Shopped his chest and his happy trail, writing "There's something sketchy about that and it's hard to tell from this small image but it doesn't look like it matches the rest of his coloring." I can't really tell. I just think we, as a society, should demand that when celebrities pose with their newborn babies, they shouldn't have to pose in their underwear like they were doing a cheesecake "Firefighters of Ladder 21" calendar to raise money for a new hose. Speaking of hoses, do we really need to see Dane pube? Really?
Anyway, here's Us Weekly's excerpt from their cover story:

First-time parents Eric Dane and Rebecca Gayheart debut the first photos of their precious 2-month-old daughter Billie Beatrice Dane in the new Us Weekly (on newsstands now).

"She's beautiful," the Grey's Anatomy star, 37, tells Us Weekly. "When she came out, she was really alert and her eyes were open. The doctor gave her to her mom, and I was so … you know, I was obviously very emotional."

Giving birth March 3 at Los Angeles' Cedars-Sinai Medical Center "was an overwhelming moment — probably the greatest moment in my life thus far," adds Gayheart, 38. "We felt so blessed. The moment we've been waiting for finally came."

Dane tells Us Weekly fatherhood has been "life changing. It changes how you look at things and how you feel about things. I like to think of myself as an artist — but now I'm working for my kid. Now I'm a father. I've got a lunch pail, I go to work and I come home and I make sure my kid is taken care of, and I make sure my wife is take care of.

"Childbirth is a miracle," he adds, "and we've created this life."

For more – including additional exclusive photos of Billie, how many hours Gayheart's "difficult" labor lasted, why they named their daughter Billie, how their baby has taken their marriage "to the next level" and their plans for another little one — pick up the new Us Weekly today!
[From Us Weekly]
Well, I'm glad the baby was healthy, even though Rebecca was smoking throughout her pregnancy – and was perhaps doing drugs too, allegedly. I'm sure both Eric and Rebecca are thrilled beyond belief. That's all I can really say, though, because I'm still crying from laughter.
Update by Celebitchy: I must mention that in the version of this cover available on US Weekly's website, you can see Eric Dane's supposed belly button clearly, and it really ads to the freaky factor of this image. (That's below.) In the actual cover that Kaiser found on Cover Awards, the belly button is covered by the UPC symbol and the image doesn't look as strange and inappropriate for a baby cover. Here's US' version, which is even more hysterical: [via Celebrity Baby Scoop]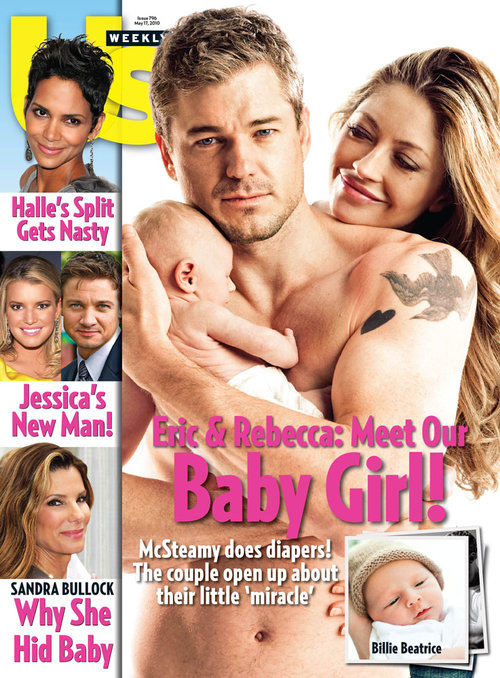 Us Weekly cover courtesy of CoverAwards.