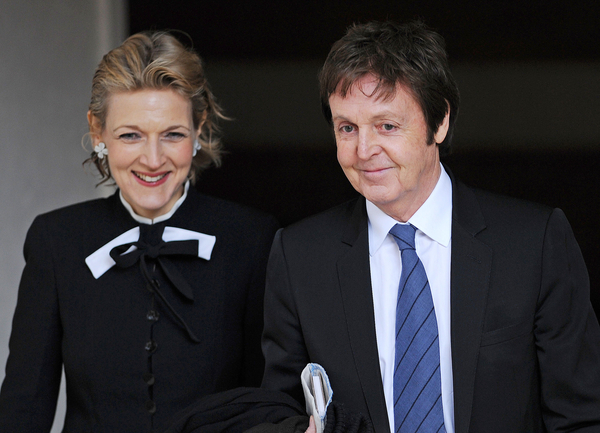 McCartney and his lawyer, Fiona Shakelton, whose hair was wet after Mills threw a pitcher of water over her in court
The UK Telegraph has excerpts from the judge's ruling on the Mills-McCartney divorce, and it's a damn good read. The Judge outlines the way that Heather lied about her financial situation before she met Paul, blamed him for not supporting and advancing her career when the opposite was true, and generally said she was exaggerating and fibbing throughout. The judge also made it clear that Heather's behavior in court, in which he caught her out in several lies, influenced the final amount of the settlement she was given. Mills walked away with $33 million in cash and $15.6 million in assets from her divorce from Sir Paul McCartney yesterday. McCartney's fortune is estimated at from $800 million to $1.65 billion.
So much for Heather bragging that she saved $1.2 million by not using a real legal team in court. She probably cost herself $10 million more with that asinine move, and reading between the lines it sounds like she annoyed that judge every day he was on this case.
In his full ruling on the McCartney divorce, the judge was highly critical of Heather Mills's evidence. Mr Justice Bennett wrote:

"The husband's evidence was, in my judgment, balanced. He expressed himself moderately though at times with justifiable irritation, if not anger. He was consistent, accurate and honest.

"But I regret to have to say I cannot say the same about the wife's evidence. Having watched and listened to her give evidence, having studied the documents, and having given in her favour every allowance for the enormous strain she must have been under (and in conducting her own case) I am driven to the conclusion that much of her evidence, both written and oral, was not just inconsistent and inaccurate but also less than candid. Overall she was a less than impressive witness."

Addressing Miss Mills's claim that Sir Paul failed to contribute to her charity work:

"I have to say that the facts as I find them to be do not support the wife's case. Within two months of the parties meeting in May 1999 the husband donated £150,000 to the wife's charity (the Heather Mills Health Trust). In December 2002 and again in December 2003 the husband made a gift of £250,000 outright to the wife, thus plainly giving her the opportunity to make donations to charity."

He concluded:

"I find that, far from the husband dictating to and restricting the wife's career and charitable activities, he did the exact opposite, as he says. He encouraged it and lent his support, name and reputation to her business and charitable activities. The facts as I find them do not in any way support her claim. "Compensation" therefore does not arise."

And he attacked Miss Mills for exaggerating how much money she needs to live:

"These items in her budget which I have touched upon above, illustrate generally speaking, how unreasonable (even generously interpreted) are the claimed needs of the wife. In the absence of any sensible proposal by the wife as to her income needs I must do the best I can on the material I have.

"If the wife feels aggrieved about what I propose she only has herself to blame. If, as she has done, a litigant flagrantly over-eggs the pudding and thus deprives the court of any sensible assistance, then he or she is likely to find that the court takes a robust view and drastically prunes the proposed budget."

Making his final financial ruling, the judge again criticised Miss Mills for making exaggerated, unsubstantiated demands:

"If the wife considers that my adjudication to be unfairly low, then I would say this. In the end it is for the applicant in ancillary relief proceedings to make a rational and logical case for the award that is sought. If an applicant puts forward an excessive, indeed exorbitant, "claim" which then she (or he) attempts to moderate by way of open offers, but which offers still fail to be supported by rational and logical bases, then the applicant has only herself (or himself) to blame if the court awards much less than what the applicant expects.

"This case is a paradigm example of an applicant failing to put a rational and logical case and thus failing to assist the court in its quasi-inquisitorial role to reach a fair result."
[From Telegraph.co.uk via Gossip Rocks]
Heather Mills said she was oh so happy with her $33 million and now there's word that she plans to move to the states and annoy the hell out of the Americans with the help of sneering lawyer Gloria Allred. Maybe if she would have kept her lawyers for her divorce case she would have even more money to use to get attention for how she's been personally wronged by just about everyone she's dealt with in life.
Heather did get her petty revenge on McCartney's lawyer, Fiona Shakleton, by throwing a jug of water over her in court yesterday. She was said to have done it after learning that she was only going to take home $33 million. Mills has accused Shakleton of calling her names, and during her impromptu press conference yesterday and on Larry King Live she was careful to add that Shakleton was supposedly mean to her "when I was in a wheelchair."