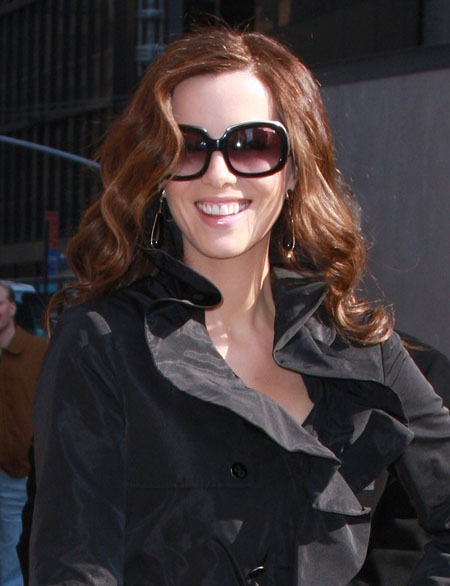 Kate Beckinsale has been making a lot of attention-getting comments lately. She gave a recent interview to Allure Magazine in which she said that her lady part was her best feature. She also said that she doesn't deserve a reputation as a loose woman and that "Only a handful of people have seen into the Pharaoh's Tomb."
When asked about another questionable comment she made, that she'd rather go down than go to Nobu, she elaborated:
You told an interviewer you'd rather eat a vagina than sushi. When stuff you say makes headlines, what's the reaction of your publicity team?

I have to say, sushi freaks me out more than almost anything. At least a vagina would be warm. [laughs] My publicist has literally turned a funny color and is going to go have a lie-down. He's throwing up now, as well. I find a lot of things kind of funny and I often say what's on my mind, and then get nine texts from all my friends going, "What's the matter with you?" But I haven't ever made a big attempt to have any particular image. And I don't really worry about it.
[From Moviefone]
Sushi is my favorite food and I find it odd that people hate it. I wonder if she's ever tried sushi. I'm serious, because I could eat it every day. My son threw up sushi once (he was sick with a stomach flu and it was just cucumber sushi, he loves it) and I had to clean it up, but I still wanted it again a couple days later.
Has she tried the non-fish versions of sushi? I have a lot of questions.
A lot of people think sushi is slimy or slippery and have an aversion to trying it, but there are a lot of different versions and it's really quite delicious. You can't knock it until you've tried it. Perhaps the same might be said for the alternative she mentioned.