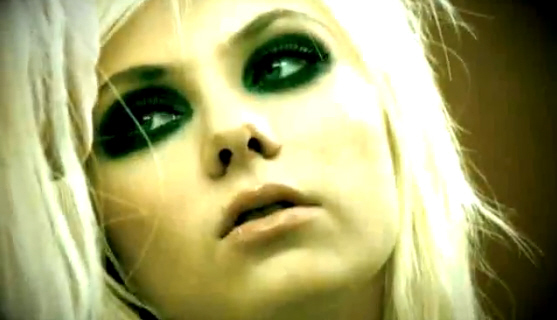 Everyone knows I think Taylor Momsen is a brat extraordinaire. Everyone knows that I think she's a cheesy little poseur, drawing her faux-angst bullsh-t from people like Angelina Jolie (the knives), Courtney Love (the look, the 'tude), and Lindsay Lohan (the graceless unprofessional behavior, the entitled bullsh-t, the too-much-too-soon – the girl is 16 years old after all). So, all in all, I kind of want her to fail, and fail hard. Not like "overdose" fail, I just want to see her kicked on her ass and have to resort to some decidedly un-hardcore things to make money. Like a Noxema commercial or something. Unfortunately, it doesn't look that's going to be happening any time soon.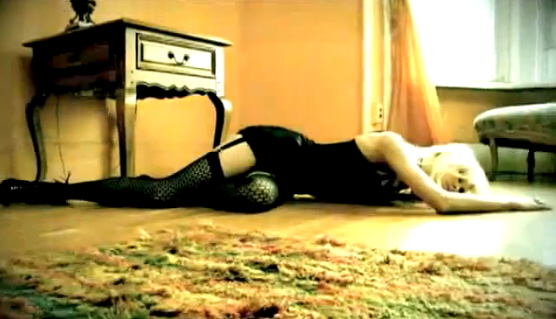 Why is that? Because Taylor Momsen's band isn't bad. Sure, it's not great, and sure, it's derivative as all hell, but it's a lot better than I expected. The Pretty Reckless just released their first video – for "Make Me Wanna Die" – and this sh-t doesn't make me terribly angry. Taylor's voice is kind of good, although I know she's heavily synthesized and Autotuned. But she's sort-of rocking a raspy Kim Gordon/Shirley Manson voice. Actually, there's quite a bit of Shirley Manson in here – she even uses a Shirley Manson line from "#1 Crush" – "I would steal for you". The video isn't that great, lots of raccoon eyes, thigh-highs, pouting and being hardcore by writing on the mirror in lipstick (GASP).
The Pretty Reckless – Make Me Wanna Die from Rowan Abeelen on Vimeo.
Actually, now that I'm watching the whole thing again, it's kind of funny how much of the video is Taylor applying her makeup. ZOMG HARDCORE. Oh, there's some sketchy, gratuitous tit shots too. What the hell? She's 16 years old! I realize she's got the voice of a grizzled 2-pack-a-day, "Hand me my Scotch" rock princess, but we don't need a closeup of her boobs. Ugh… this one's another Lohan, right?